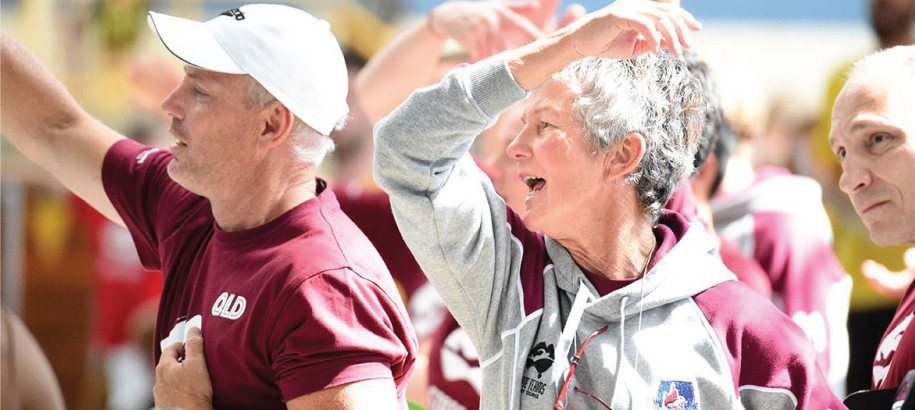 If you enjoy swimming, have spent your life around the pool or love the excitement of competition, you may consider becoming a swim coach. Whether you're a former swimmer or just love the idea of teaching the skills of competitive strokes, becoming a coach is a rewarding experience.

Once you have achieved your swim teacher qualification, you can go on to gain further qualifications through the multi-level, competency-based pathway as depicted below. This pathway takes into consideration formal study, acquired knowledge, practical experience and in the case of the Elite Coach qualifications, even coaching performance. For more detailed information on our nationwide coaching pathway, please visit the Swimming Australia website.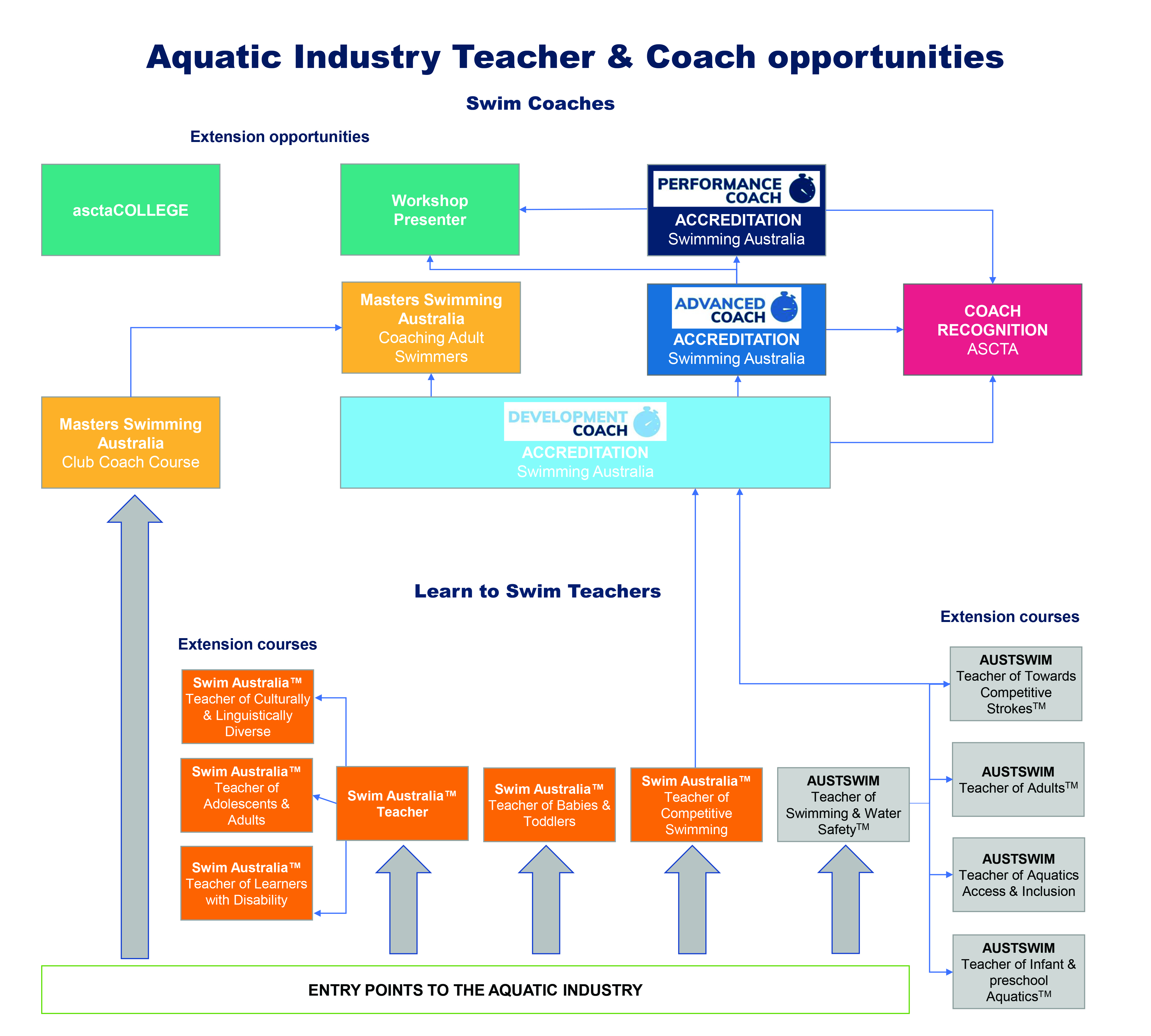 Our national coaching pathway and accreditation structure is supported by the peak body for swimming coaches and teachers in Australia; the Australian Swimming Coaches and Teachers Association (ascta), a stakeholder of Swimming Australia. The organisation is responsible for maintaining high ethical and educational standards for their members, and providing them with the most up-to-date and proficient coaching/teaching resources.
 
As an ascta member, you may be eligible to participate in some of Swimming Queensland's coach development opportunities.
If you are beginning to explore working in the sport of swimming, you may be asking yourself whether you would like to become a swim teacher or a coach, and what the difference is! Below we've explained how these roles differ, so you can make the best decision for your chosen career.

Swim Teachers

Swim teachers generally focus on teaching the basic skills required to survive in an aquatic environment. This includes teaching things such as:

Introducing students to the aquatic environment (e.g. how to get in and out of the water safely for a variety of locations);
Demonstrating methods of moving through and over the water (e.g. floating, basic competitive and lifesaving strokes);
Instructing how to stay safe in a diverse range of environments (e.g. survival skills, basic rescues, surface dives).

A qualified swim teacher will acquire the basic theoretical knowledge of teaching strokes, water safety and survival. Swim teachers may go on to specialise their skills in teaching Babies and Toddlers, Adolescents and Adults, Learners with Disability or other niche groups or they may choose to develop their skills as a coach.

Interested in becoming a Swim Teacher?
Visit our Become a Swim Teacher page.

Coaches

Coaches acquire knowledge which enable them to assist and develop swimmers who already have basic aquatic skills, particularly in the competitive strokes; freestyle, butterfly, breaststroke and backstroke.

Through courses coaches gain the ability to instruct swimmers how to improve their technique, coaching swimmers on things such as:

Improving body positioning in the water;
Decreasing resistance through streamlining;
Developing more efficient stroke mechanics;
Training their body for adaptation.

The training a coach undertakes gives them the knowledge and ability to assist swimmers to improve their efficiency, strength and conditioning through both on-land and in-water exercises, alongside motivational strategies and training techniques.

Some coaches may also choose to gain specific qualifications for working with Adults, Open Water Swimmers, Swimmers with Disability or other specialist areas.

Should you have any queries about becoming a coach, or regarding your existing accreditations and license, please contact the ascta office.

ascta
Website: www.ascta.com
Phone: (07)5494 6255
Email: accreditation@ascta.com