07 September 2023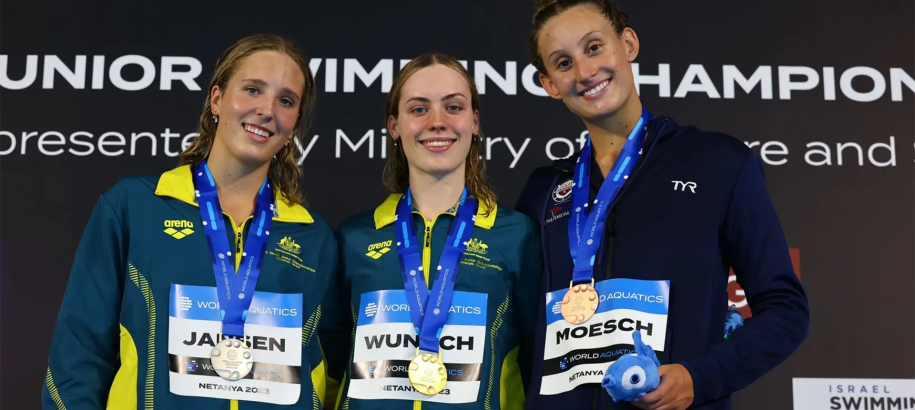 It has been another golden night for Australia in the pool at the World Junior Swimming Championships in Netanya (ISR) with three Queenslanders sharing the team's first world junior record of the meet.
Flynn Southam (Bond Swimming), Ed Sommerville (Brisbane Grammar) and Milla Jansen (Bond Swimming) were joined by newly crowned world 100m champion Olivia Wunsch (Carlile, NSW) to set a new World Junior Record in the Mixed 4x100m freestyle relay.
The Australians clocked a time of 3:24.29, to finish ahead of the USA (3:25.59) and Canada (3:29.14) – taking the team's medal tally to 12 - four gold, six silver and two bronze. 
Southam (48.58) and Sommerville (48.54) gave the Junior Dolphins a flying start with Wunsch delivering the second fastest female split of 53.62 to rocket the Aussies to an unassailable lead.
It was then over to Jansen (who won silver in the individual behind Wunsch) to anchor and the girl from Bond delivered the knock-out blow with the fastest women's split of the night with her 53.55.
The junior relay gold followed the world record breaking swim by the senior Dolphins (Jack Cartwright, Kyle Chalmers, Shayna Jack and Mollie O'Callaghan) in the Mixed 4x100m freestyle at the recent Fukuoka World's – giving Australia both world records in the event – and re-enforcing its freestyle sprinting depth.
Wunsch (53.71) and Jansen (54.08) had earlier delivered their huge individual swims with their '1-2' finish in the women's 100m freestyle just 25 minutes earlier, both swimming faster than they'd ever swum, while Sommerville clocked the fastest split for the world junior champions with his second consecutive 48-point relay swim.
"It (certainly) feels good, and I couldn't have done it without the team – Flynn, Olivia and Milla," Sommerville said after the final.
With Southam adding: "We're so lucky to have the depth of women in Australia and I'm hoping Ed and I can replicate that (1-2) individual result on the last night here."
In other events, Enoch Robb (All Saints) was a close up fifth in the 100m butterfly in 52.88.
AUSTRALIAN MEDALS AFTER 3 Days: 
GOLD (4) 
Flynn Southam (Bond Swimming, QLD) 
Men's 200m freestyle): 1:46.57
Jaclyn Barclay (St Peters Western, QLD)
Women's 100m backstroke): 59.47
Mixed 4x100m freestyle Relay (Flynn Southam 48.58; Ed Sommerville 48.54; Olivia Wunsch 53.62; Milla Jansen 53.55) 3:24.29 (WJ/CR)
Olivia Wunsch (Carlile, NSW)
Women's 100m freestyle 53.71
SILVER (6)
Milla Jansen (Bond, QLD) 
Women's 100m freestyle 54.08
Bella Grant (Trinity Grammar, NSW)
Women's 200m butterfly: 2:08.97
Iona Anderson (Breakers, WA)
Women's 100m backstroke: 59.88
Mixed 4x100m medley relay 
Jaclyn Barclay (St Peters Western, QLD) 59.81; 
Gideon Burnes (Bond, QLD)1:01.44; 
Isabella Boyd (Nunawading, VIC) 59.23; 
Ed Somerville (Brisbane Grammar) 48.70)
Women's 4x200m freestyle relay 
Jamie Perkins (St Peters Western, QLD) 1:57.85;
 Hannah Casey (Marist College Ashgrove) 1:58.93);
Jamie de Lutiis (Wests Illawarra, NSW) 1:58.27; 
Amelia Weber (St Peters Western, QLD) 1:57.63)
Time:  7:52.68
Men's 4x 100m freestyle relay
Ed Sommerville (Brisbane Grammar, QLD) 49.24; 
Marcus da Silva (Cranbrook, NSW) 49.53; 
Anders McAlpine (Chandler, QLD) 49.45; 
Flynn Southam (Bond, QLD) 48.47) 
Time: 3:16.69
BRONZE (2)
Anders McAlpine (Chandler, QLD)
200m freestyle 1:47.94
Bella Grant (Trinity Grammar, NSW)
200m backstroke 2:11.24