24 November 2022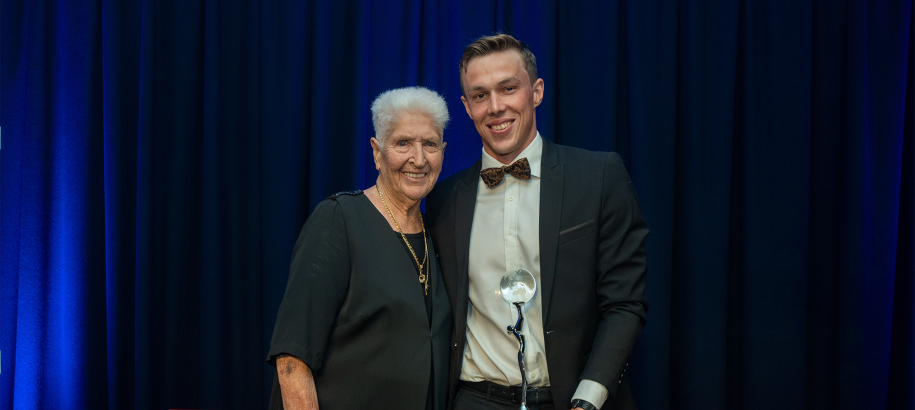 In a glittering night In Brisbane the who's who of the 2021 and 2022 Australian Swim Teams turned out in all of their glitterati for Hancock Prospecting's Patron's Annual Awards in Brisbane last Saturday night.
The French-themed evening, in a nod to the upcoming Paris Games, attracted almost 300 people at the 2032 Olympic city's Convention Centre including Tokyo golden girls Emma McKeon, Kaylee McKeown and Ariarne Titmus, Olympic Champion breaststroker extraordinaire Zac Stubblety-Cook and legend Dawn Fraser.
It was a celebration in the swimming capital not just for the athletes and their coaches, but also their friends, families and loved ones – a special occasion hosted by Hancock's Executive Chairman Gina Rinehart and delivered by Swimming Queensland and the Australian Swimmers Association.
A guest list that also included Australian Olympic Committee boss Ian Chesterman and the Swimming Queensland Board, who joined in celebrating the Dolphins successes throughout 2022, looking back over their Tokyo triumphs and forward to the excitement of the Paris campaign for 2024.
And Swimming World were given exclusive access to the evening on the eve of the 2022-23 Summer season prepares to get under way Down Under with the Fina World Short Course Championships in Melbourne and the Queensland State Championships kicking things off in a jam-packed December.
Stubblety-Cook – the Olympic, World and Commonwealth Games champion and world record holder for 200m breaststroke was awarded the coveted Swimmers Swimmer – voted on by his peers – and celebrating not only his stunning career achievements but the impact he has had on the Dolphins teams.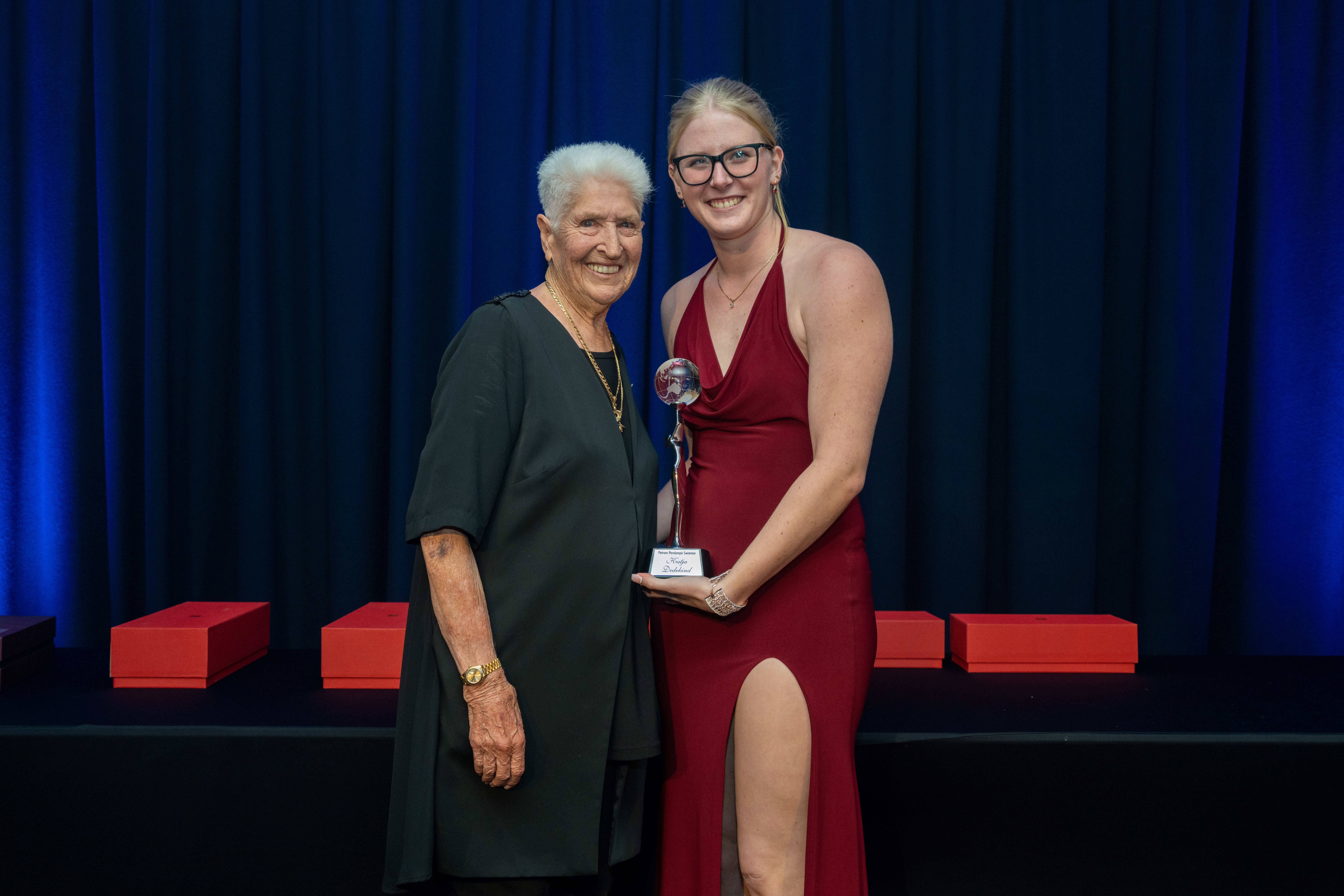 Patron's Awards were also presented to Australia's most prolific Olympic and Commonwealth Games gold medal winner in McKeon and two-time Paralympian, Para World Champion and Commonwealth Games gold medallist and world record holder Katja Dedekind. 
McKeon won a stunning four gold medals in Tokyo followed by six more gold in Birmingham  – rocketing the Gold Coaster who grew up in her family's pool in the Illawarra in NSW – into swimming's stratosphere as Australia's most successful Olympic and Commonwealth Games athlete ever.
South African-born visually impaired Dedekind, formerly of Brisbane and now on the Sunshine Coast, opened the Austral, ian team's gold medal haul in Birmingham with the only individual world record in the Commonwealth Games pool in the S13 50m freestyle.
Swimming Queensland's Awards organiser and former world champion herself, Jade Edmistone said the night was an opportunity for Mrs Rinehart "to gift all of the Tokyo Para and Olympic athletes for their special achievement as well as award the 2022 Swimmers' Swimmer and Patron Awards for the Para and Olympic Programs.
"And it was also the occasion for the athletes to thank Mrs Rinehart with their own special video messages and a gift of a framed signed shirt.
"Swimming Queensland is excited to be delivering the Patron's Awards for the next two years as we head into Paris and celebrate post Paris, hence the theme this year had a touch of French Glamour."
Hancock Prospecting CEO Garry Korte addressed the night of nights on behalf of his Executive Chairman saying:
"You are all such terrific role models and not only to young Australians, with your dedication, self-discipline, your teamship, your world class efforts and the patriotism you display when you proudly represent our country.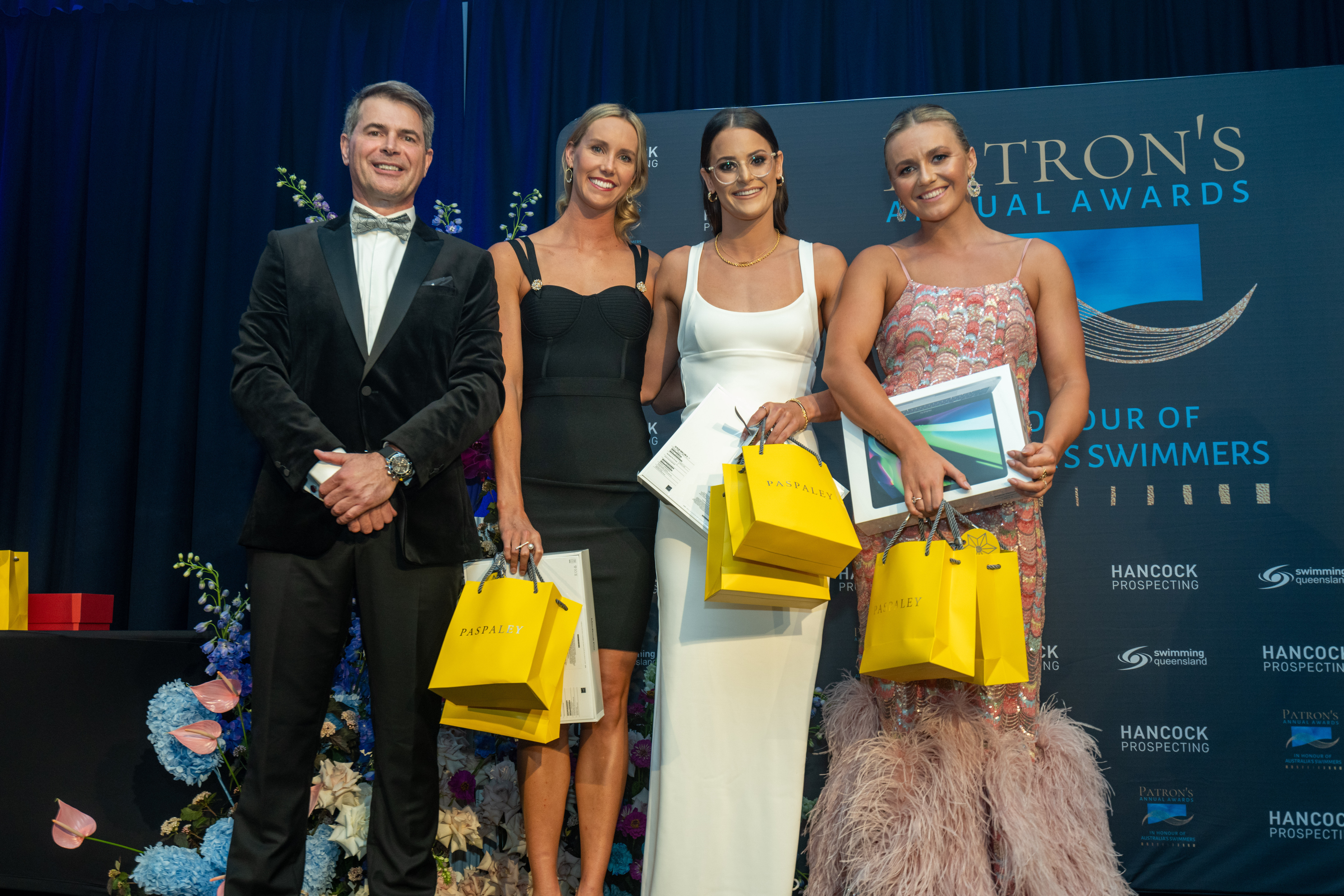 "Like each of you, it touches me (Mrs Rinehart) deep down when you achieve the podium after so much work, and there is our anthem and flag to celebrate your achievement as outstanding Australians.
"I am very disappointed that I cannot be in two places at once, to celebrate our outstanding Aussie swimmers, especially so after the Olympics and with such fantastic efforts at the Commonwealth Games.
"With 25 gold medals, 20 silver and 20 bronze in Birmingham, our team showed that saying is true: 'All that glitters is gold, silver and bronze.
"And to Emma McKeon, such incredible performances in Birmingham. You've made people all over Australia proud.
"Swimmers, I hope you all know that for many years now, outside of your families, I've been one of your most loyal supporters.
"I admire your desire to do well, to work hard to represent our country to the best of your ability, your perseverance, as I've said before, these are all characteristics that will serve you well for your lives after swimming.
"When then Prince Charles, now King Charles III, was delivering Queen Elizabeth's opening message at the Birmingham Games, there was a comment I especially enjoyed.
"He said to our Aussie team: "You're the team that the others are terrified of! "
"The Olympics and the Birmingham Games were exciting times for the many Aussies glued to TVs and cheering you on from across Australia, lifting our Covid-affected spirits."
Triple Olympian and a member of the Tokyo Leadership Team Mitch Larkin provided this insight into the benefits of the Hancock Prospecting support saying Mrs Rinehart had saved careers.
"I know a number of the swimmers because of the funding were able to focus solely on getting the job done in the water and becoming the best in the world basically," said Larkin.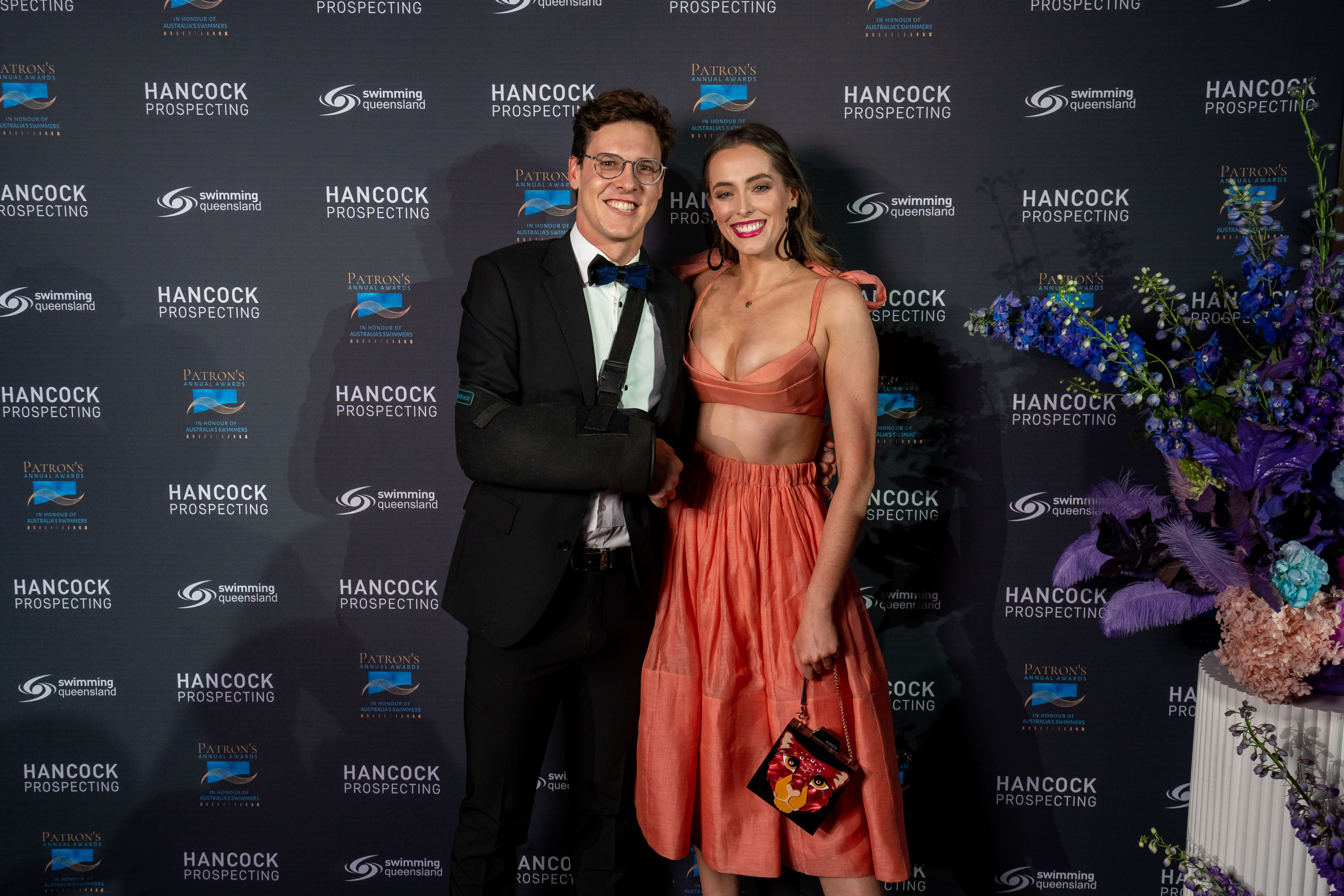 "She saved careers and someone like Tokyo silver medallist Jack McLaughlin stayed in the sport a lot longer because of Mrs Rinehart and as a result he came away with that silver medal in the 400m freestyle from the Tokyo Games.
"I had also spoken to Rio Olympian Grant Irvine a couple of years earlier and ultimately he retired looking to make that next step in his life and taking up full time work.
"He wanted to start saving for a house and now that Mrs Rinehart has come in and supported us it has allowed swimmers to stay in the sports longer able to retire with some savings and something to start with when they decide to begin the next phase of their life…."
The evening was a huge success, with international group The London Essentials returning to  perform throughout the evening so guests could dance the night away, serving up their own unique performances as they sang and played their way around the room.
https://www.swimmingworldmagazine.com/news/australian-dolphins-honoured-at-a-glittering-hancock-prospecting-patrons-awards-night-in-the-2032-olympic-city/