04 October 2022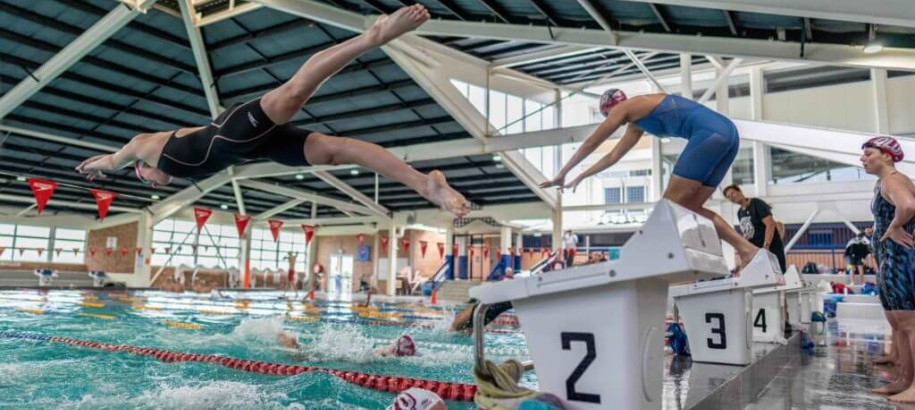 by IAN HANSON - OCEANIA CORRESPONDENT
Australia's Future Olympic Stocks Pull Out All Stops In Thrilling Finale To Queensland Tri Meet
Queensland's future Olympians have shown why Australia's premier swimming State is in exciting hands with the next generation putting on a classic show of strength at the Queensland Short Course Tri Meet on the Gold Coast.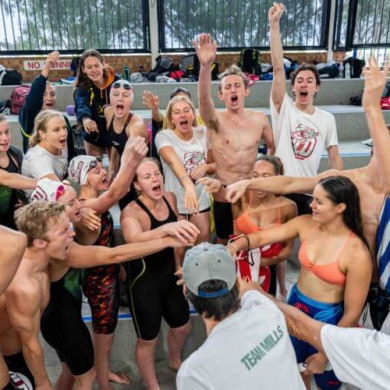 The innovative Tri-Teams concept in honour of Queensland sprint legends Alice Mills, Jodie Henry and Libby Trickett, delivered a thrilling finish that wasn't decided until the last of the 91 events.
After four action-packed sessions it was Team Mills who pulled out all stops on the final event to claim the coveted trophy with 875 points from a never-say-die Team Henry 872 and defending champions Team Trickett 857.
The three girls who led the sprinting world in the 2000s would certainly be proud of the current generation at a meet featuring over 70 of Queensland's top age group swimmers between 14 and 18 years.
Names that could well emerge post Paris and towards the 2028 Los Angeles Olympics and when the greatest show in sport arrive down under into Brisbane and South East Queensland in 2032.
The overall result all came down to the final relay after Team Mills and Team Henry dead-heated in the second last event the Mixed 14-16 years 300m freestyle relay –both teams touching in 2:17.82, before Mills won the last event the 16-18 years Mixed 300m relay to wrap up two days of helter-skelter racing.
It has become a stellar early season Queensland v Queensland v Queensland Meet developed by Swimming Queensland Coaching Director Drew McGregor to nurture the State's next generation swimmers and celebrating its past stars.
The busy summer ahead will feature the countdown to the Queensland State Championship in December and the Australian Age Championships announced for the Gold Coast next April.
Team Mills was led by 15-year-old St Peters Western Junior Pan Pac representative Jaclyn Barclay who started the final day, winning the 14-15 years 50 backstroke in 27.79 to wrap up the 50, 75 and 150m backstroke treble.
And Barclay, coached by Richard Sleight, was ably supported by Bond breaststroker Gideon Burnes (Chris Mooney) who won the 15-16 years breaststroke treble, as did Churchie's 16-year-old Tom Pattison (Ben Allen) in the butterfly. 
Rockhampton's 16-year-old Sally Vagg (Shane Kingston) won the 100, 200 and 300m IMs for Team Mills and 18-year-old Southport Olympic breaststroker Yannik Zwolsman (Glenn Baker) who also took the 50, 75 and 150m breaststroke treble.
While TSS Aquatic's 14-year-old Bianca Rayward (coached by David Thomas) chipped in with an impressive win for Team Mills in the 900m freestyle in 9:54.48.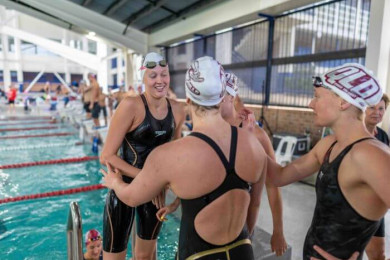 Another stand-out for Team Mills was 16-year-old Indiana King (coached by her father, former Australian representative Zane King at Iona College,) who is also the daughter of Olympian and former world record holder Rebecca Brown.
Indiana won the 50 and 75m freestyles in 26.27 and 41.16 respectively for Team Mills, finishing third in the 150m freestyle as well as playing key roles in the Team Mills relays.
Amongst other eye-catching swim on the final day came from Rackley's Junior Pan Pac representative Ike Martinez (swimming for Team Henry and coached by Tim Dilger) who was impressive in winning the 15-16 years 900m freestyle in 9:17.06.
The 15-year-old Cairns product had also won the 300 and 600m freestyle events while Bond's 15-year-old Mikayla Bird (Team Trickett) and coached by Zander Hey, took out the 50, 75 and 150m butterfly treble in the 14-15 years age group.
Please find the original article here