11 September 2023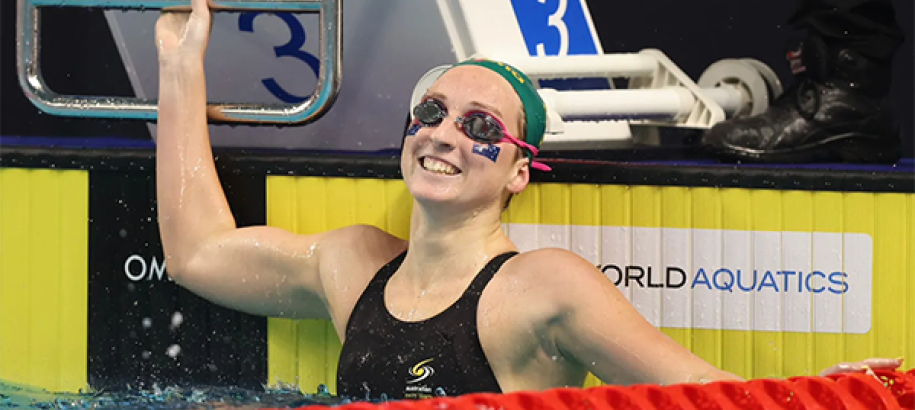 Courageous St Peters Western's teenager Jamie Perkins has won Australia's fifth gold medal of the 2023 World Junior Swimming Championships after overcoming a painful back injury which has plagued her for the last 12 months.
Perkins flashed home to take out the women's 400 metres freestyle final in a personal best time of 4:05.72 on night four in Netanya, Israel.
The 18-year-old patriotic Aussie girl from Brisbane, wore Australian flag tattoos on her cheeks as her raucous junior Dolphins teammates cheered her home.
And there was no more deserving winner as she continued the whirlpool of talent and successes of her SPW teammates and women's world champions from the Fukuoka Worlds last month Ariarne Titmus, Mollie O'Callaghan, Shayna Jack and Brianna Throssell.
The Dean Boxall-coached Perkins stuck to her race plan, storming home over the final 100m to claim the victory with her 4:05.72 (59.40; 2:01.64; 3:04.16) – just 0.30 outside fellow Australian Lani Pallister's World Junior Championship record of 4:05.42 set in Budapest in 2019.
Perkins blasted out her final 100m in 1:01.56 – her last 50m in 30.33 – overtaking top qualifier Ella Christina Jansen from Canada, who led for the first 300m but who finished off the podium in fourth.
After the win, Perkins told how important it was to stick to her plan and of her tough 12 months fightback from the back injury which had troubled her during last year's World Short Course Championships in Melbourne.
"That was a really tough race, I had Ella pushing me the whole way and I just stuck to my race plan, and I was able to get that win here tonight," Perkins told the crowd after her race.
"I've had a long 12 months battling a back injury, but that was a really good swim tonight and a great preparation going into next year."
And a deserved golden moment that certainly makes up for the five silver medals she won at last year's Junior Pan Pacs in Hawaii where she finished second in the 200, 400 and 800m freestyle and in Australia's 4x100 and 4x200m freestyle relays.
It was Perkins second medal of the meet in Netanya after leading off Australia's 4x200m freestyle relay team that also claimed the silver behind the US on night one – before tonight's performance that was certainly worth the wait for gold.
Fellow Queenslanders again featured on the podium with Bond's work horse Flynn Southam adding to his collection – winning a close-up silver in the men's 50m freestyle and bronze in the 4x200m freestyle with fellow Maroons Ed Somerville (Brisbane Grammar) and Anders McAlpine(Chandler) who were joined by Marcus da Silva (Cranbrook, NSW) to finish third behind the USA and China.
Southern was out-touched by Trinbago's Commonwealth Games Youth champion Nikoli Blackman by just 0.08 in a blanket men's 50m final – Blackman winning in 22;35 from Southam 22.43 and Italy's Lorenzo Ballarati (22.47).
The boy from Bond has now won two gold, two silver and a bronze after four days of the six days of competition with Australia second on the medal tally with five gold, seven silver and four bronze for a total of 16.
Ends..
 AUSTRALIAN MEDALS AFTER 4 Days: 
GOLD (5) 
Flynn Southam (Bond Swimming, QLD) 
Men's 200m freestyle): 1:46.57
Jaclyn Barclay (St Peters Western, QLD)
Women's 100m backstroke): 59.47
Mixed 4x100m freestyle Relay (Flynn Southam 48.58; Ed Sommerville 48.54; Olivia Wunsch 53.62; Milla Jansen 53.55) 3:24.29 (WJ/CR)
Olivia Wunsch (Carlile, NSW)
Women's 100m freestyle 53.71
Jamie Perkins (St Peters Western, QLD)
Women's 400m freestyle 4:05.72
SILVER (7)
Flynn Southam (Bond, QLD)
50m freestyle 22.43
Milla Jansen (Bond, QLD) 
Women's 100m freestyle 54.08
Bella Grant (Trinity Grammar, NSW)
Women's 200m butterfly: 2:08.97
Iona Anderson (Breakers, WA)
Women's 100m backstroke: 59.88
Mixed 4x100m medley relay 
Jaclyn Barclay (St Peters Western, QLD) 59.81; 
Gideon Burnes (Bond, QLD)1:01.44; 
Isabella Boyd (Nunawading, VIC) 59.23; 
Ed Somerville (Brisbane Grammar) 48.70)
Women's 4x200m freestyle relay 
Jamie Perkins (St Peters Western, QLD) 1:57.85;
 Hannah Casey (Marist College Ashgrove) 1:58.93);
Jamie de Lutiis (Wests Illawarra, NSW) 1:58.27; 
Amelia Weber (St Peters Western, QLD) 1:57.63)
Time:  7:52.68
Men's 4x 100m freestyle relay
Ed Sommerville (Brisbane Grammar, QLD) 49.24; 
Marcus da Silva (Cranbrook, NSW) 49.53; 
Anders McAlpine (Chandler, QLD) 49.45; 
Flynn Southam (Bond, QLD) 48.47) 
Time: 3:16.69
BRONZE (4)
Anders McAlpine (Chandler, QLD)
200m freestyle 1:47.94
Bella Grant (Trinity Grammar, NSW)
200m backstroke 2:11.24
Olivia Wunsch (Carlile, NSW)
50m butterfly 26.53
Men's 4x200m freestyle relay
Anders McAlpine (Chandler, QLD) 1:49.17 
Ed Sommerville (Brisbane Grammar, QLD) 1:47.91
Marcus da Silva (Cranbrook, NSW) 1.49.68 
Flynn Southam (Bond, QLD) 1:49.26
Time: 7:16.02