31 August 2023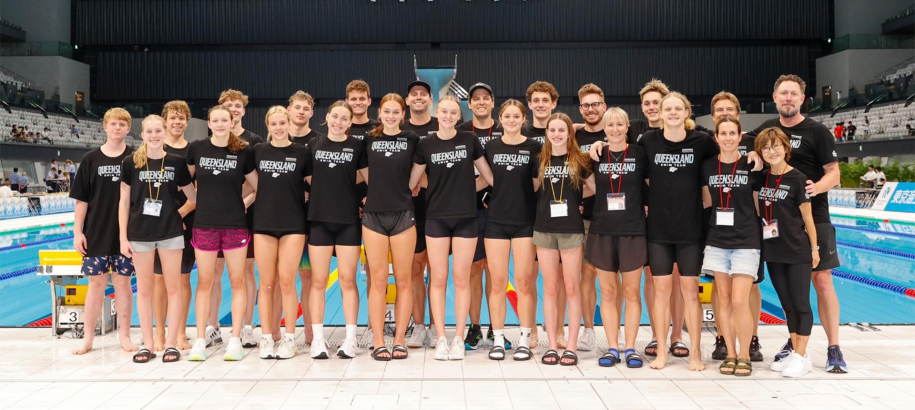 A 16-strong Queensland Swim Team has returned home from a highly successful Japan Junior Olympic Cup campaign in Tokyo winning a total of eight medals, including two individual gold medals to Griffith University's Piper Asquith.
The Queensland team, led by Head Coach and Swimming Queensland Coach Director Drew McGregor, and supported by Hancock Prospecting, posted one new Championship record, one new Queensland record and a host of personal best times.
The next generation of young Queenslanders earning invaluable international competition against some of the best age-groupers in world swimming.
Asquith, coached by Olympian Thomas Fraser-Holmes, in the Griffith University program led by master coach Michael Bohl, finished with two gold, the 15-16 years 200m freestyle in a new Championship record of 2:00.51 and the 400m freestyle in a new personal best time of 4:15.77.
While Ainsley Trotter (St Peters Western; Richard Sleight) clocked a personal best of 56.28 to finish second in the 15-16 years 100m freestyle and 25.77 for her second individual silver in the 50m freestyle final.
Asquith (57.25) then led off the Queensland Girls in the 4x100m freestyle relay followed by Hannah Morton (St Peters Western; Richard Sleight) 57.13 and Kaci Curtis St Peters Western; Richard Sleight) 58.25 before Trotter sizzled home to snatch the silver medal in 56.00 for a combined time of 3:48.63.
Meanwhile Lilla Ribot-de-bresac (Newmarket Racers; Steve Miller) set a new Queensland record of 1:11.81, with her silver medal winning swim in the 13-14 years 100m women's breaststroke.
With Thomas Booth (Southside Aquatics; Lachlan Staples) winning a well-deserved bronze in the 15-16 years 50 freestyle in 23.54 after his sixth in the 15-16 years 100m freestyle, which saw William Shepherd-Smith (Churchie; George Harnetty) finish fourth in 50.99 after his personal best of 50.85 in the heats.
Shepherd-Smith (51.00) then led off the boys 4x100m freestyle relay, combining with Dylan Pieterse (Redlands; Jo Collins) 52.12, Kai Gilbert (St Peters Western; Richard Sleight) 51.27 and Booth, who finished with a flying 50.59 to anchor the young Queenslanders home for bronze in 3:24.98.
(Photo courtesy of: © KISHIMOTO )