12 September 2023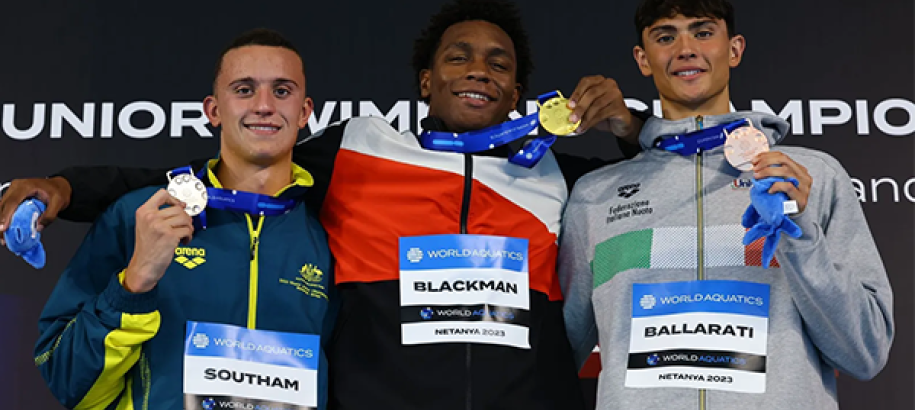 Just a month after Australia's golden harvest from the World Championships in Fukuoka has come another record-breaking medal haul from the Junior Dolphins World Championship team in Netyana, Israel.
Fourteen Queensland teenagers from 10 different clubs collected 38 medals between them – 10 individual and 28 relay medals.
Another extraordinary showing from the Queensland swimmers and coaches from Australia's premier swimming State as the countdown continues in earnest for next year's Olympic Trials and the Paris 2024 Games.
The Junior Dolphins were ably led by Olympic gold medal coach, Simon Cusack (Head Coach) and supported by fellow Queensland based Australian team coaches Kyle Samuelson (Bond Swimming), Richard Sleight (St Peters Western) and James Boyce (Marist College Ashgrove).
Leading the way in the pool with individual gold were Bond Swimming's Flynn Southam and St Peters Western pair Jaclyn Barclay and Jamie Perkins.
Southam 's win came in the men's 200m freestyle, Barclay took out the women's 100m backstroke and Perkins the women's 400m freestyle.
Individual silver medals came from Southam (50m freestyle), Barclay (50m backstroke) and Bond's Milla Jansen (100m freestyle).
While bronze medals went to Barclay (50m backstroke), Brisbane Grammar's Ed Sommerville (100m freestyle), Marist College Ashgrove's Hannah Casey (50m freestyle), Churchie's Thomas Pattison (50m butterfly) and Chandler's Anders McAlpine (200m freestyle).
Southam won a total of five medals, as did fellow workhorse Brisbane Grammar's Sommerville who won individual bronze in the 100 freestyle with a major highlight coming when they joined Jansen and Olivia Wunsch (Carlile, NSW) to set a new junior world record in the Mixed 4x100m freestyle relay.
Jansen and Barclay both finished the meet with four medals – major highlights saw Barclay lead off the women's 4x100 metres medley relay win (after the US were disqualified) and Jansen – after her sterling individual silver to Wunsch in the 100m freestyle, led off the victorious women's 4x100m freestylers relayers.
Perkins was outstanding in the 400m freestyle, emulating her club mate Ariarne Titmus' effort from Fukuoka while Hannah Casey was another stand-out taking individual bronze in the individual 50m freestyle – hearing the National Anthem for the second time as she shared the podium with gold medallist Wunsch.
Casey was also a member of the gold medal winning 4x100m women's relay on night one and in the heats of the all-conquering Mixed 4x100m freestyle relay – with Australia's superior freestyling depth allowing the Dolphins the luxury of swapping in all four swimmers for the final.
The final night saw the women's 4x100m medley win Australia's 40 gold medal in World Junior Championship history.
Australia now has world senior and junior world champions in seven events:
-       Women's 100m freestyle (Mollie O'Callaghan and Olivia Wunsch)
-       Women's 400m freestyle (Ariarne Titmus and Jamie Perkins) Both from the same St Peters Western club in Brisbane)
-       Women's 100m backstroke (Kaylee McKeown and Jaclyn Barclay)
-       Women's 50m backstroke (Kaylee McKeown and Iona Anderson) and;
-       Three relays – Mixed 4x100m freestyle (both with World Records); Women's 4x100m freestyle and 4x100m medley
Queensland Medallists List
5 - Flynn Southam (Bond Swimming, QLD) 2 Gold, 2 Silver, 1 Bronze
5 - Ed Sommerville (Brisbane Grammar, QLD) 1 Gold, 2 Silver, 2 Bronze
4- Jaclyn Barclay (St Peters Western, QLD) 2 Gold, 1 Silver, 1 Bronze 
4 -Milla Jansen (Bond Swimming, QLD) 3 Gold*, 1 Silver
4- Hannah Casey (Marist College Ashgrove, QLD) 2 Gold, * 1 Silver, 1 Bronze
4 -Anders McAlpine (Chandler, QLD) 1 Gold* 1 Silver, 2 Bronze
3 -Jamie Perkins (St Peters Western, QLD) 2 Gold, * 1 Silver
2-Thomas Pattison (Churchie) 1 Silver, 1 Bronze*
2-Amelia Weber (St Peters Western, QLD) 1 Gold, * 1 silver
1 -Hayley Mackinder (Griffith University, QLD) 1 Gold
1-Gideon Burnes (Bond Swimming, QLD) 1 Silver
1-Enoch Robb (All Saints, QLD) 1 Silver*
1-Karl Albertyn (Miami, QLD) 1 Bronze*
1-Ike Martinez (Rackley, QLD) 1 Bronze*
*Indicates relay alternates (heat swimmers)
OFFICIAL AUSTRALIAN TALLY at the conclusion of the meet with Australia finishing second to the USA:
GOLD (9)
Olivia Wunsch (Carlile, NSW)
Women's 50m freestyle 24.59 =CR
Olivia Wunsch (Carlile, NSW)
Women's 100m freestyle 53.71
Jaclyn Barclay (St Peters Western, QLD)
Women's 100m backstroke): 59.47
Jamie Perkins (St Peters Western, QLD)
Women's 400m freestyle 4:05.72
Iona Anderson (Breakers, WA)
Women's 50m backstroke 28.01
Flynn Southam (Bond Swimming, QLD) 
Men's 200m freestyle): 1:46.57
Mixed 4x100m freestyle Relay
Flynn Southam (Bond Swimming, QLD) 48.58
Ed Sommerville (Brisbane Grammar, QLD) 48.54
Olivia Wunsch (Carlile, NSW) 53.62
Milla Jansen (Bond, QLD) 53.55
Time: 3:24.29 (WJ/CR)
Women's 4x100m freestyle relay
Milla Jansen (Bond Swimming, QLD) 54.18
Hannah Casey (Marist College Ashgrove, QLD) 54.89
Jamie de Lutiis (Wests Illawarra, NSW) 54.84
Olivia Wunsch (Carlile, NSW) 52.61
Time: 3:36.52
Women's 4x100m medley relay
Jaclyn Barclay (St Peters Western, QLD) 1:00.17
Hayley Mackinder (Griffith University, QLD) 1:08.63
Isabella Boyd (Nunawading, VIC) 59.33
Olivia Wunsch (Carlile, NSW) 52.73
Time: 4:00.86
SILVER (7)
Flynn Southam (Bond, QLD)
50m freestyle 22.43
Milla Jansen (Bond, QLD) 
Women's 100m freestyle 54.08
Bella Grant (Trinity Grammar, NSW)
Women's 200m butterfly: 2:08.97
Iona Anderson (Breakers, WA)
Women's 100m backstroke: 59.88
Mixed 4x100m medley relay 
Jaclyn Barclay (St Peters Western, QLD) 59.81 
Gideon Burnes (Bond, QLD)1:01.44
Isabella Boyd (Nunawading, VIC) 59.23
Ed Sommerville (Brisbane Grammar) 48.70
Women's 4x200m freestyle relay 
Jamie Perkins (St Peters Western, QLD) 1:57.85
Hannah Casey (Marist College Ashgrove) 1:58.93
Jamie de Lutiis (Wests Illawarra, NSW) 1:58.27
Amelia Weber (St Peters Western, QLD) 1:57.63
Time:  7:52.68
Men's 4x 100m freestyle relay
Ed Sommerville (Brisbane Grammar, QLD) 49.24; 
Marcus da Silva (Cranbrook, NSW) 49.53; 
Anders McAlpine (Chandler, QLD) 49.45; 
Flynn Southam (Bond, QLD) 48.47
Time: 3:16.69
BRONZE (8) 
Ed Sommerville (Brisbane Grammar, QLD)
Men's 100m freestyle 49.16
Hannah Casey (Marist College Ashgrove, QLD)
Women's 50m freestyle 25.07)
Thomas Pattison (Churchie, QLD)
Men's 50m butterfly 23.95
Jaclyn Barclay (St Peters Western, QLD)
Women's 50m backstroke 28.14
Anders McAlpine (Chandler, QLD)
200m freestyle 1:47.94
Bella Grant (Trinity Grammar, NSW)
200m backstroke 2:11.24
Olivia Wunsch (Carlile, NSW)
50m butterfly 26.53
Men's 4x200m freestyle relay
Anders McAlpine (Chandler, QLD) 1:49.17 
Ed Sommerville (Brisbane Grammar, QLD) 1:47.91
Marcus da Silva (Cranbrook, NSW) 1.49.68 
Flynn Southam (Bond, QLD) 1:49.26
Time: 7:16.02