18 September 2022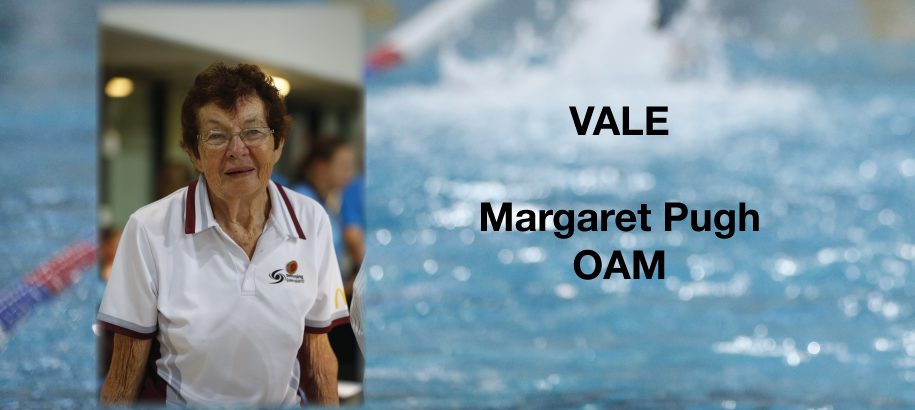 Swimming Queensland is sad to report the passing of its former President, Mrs Margaret Pugh OAM.  A former primary school teacher, Margaret joined our sport over 50 years ago at school level and went on to become the most outstanding female leader in SQ's 124-year history.  As President of SQ in the early 2000s, Margaret achieved the consensus needed for major reform of SQ's constitution.  This accomplishment, coupled with Margaret's collaborative and progressive style, paved the way for Queensland to go on to become the most successful swimming province in the world. 
Through her grace, decency, humility, and genuine warmth, Margaret was a potent, unifying figure,  who, seemingly effortlessly, built instant rapport with everyone.  Her devotion to swimming has been of indelible benefit not only to the sport itself, but also to hundreds of thousands of sporting children and their parents over the past half century. 
Margaret's profound contribution was recognised through SQ Life Membership, induction into the SQ Hall of Fame, Order of Australia Medal, Australian Sport Medal, and Queensland Sports Federation Service to Sport award.  She will be dearly missed.
Funeral Details:
Family and friends are invited to attend a service for Margaret held in the Lakeview Chapel, Albany Creek Road, Bridgeman Downs on Monday, 26th September 2022 at 9:00am.
Live Stream Link: https://kmsmith.com.au/live-streaming/client/?nid=f52553e3-f62c-475e-bdc0-f075a428edaa