20 July 2023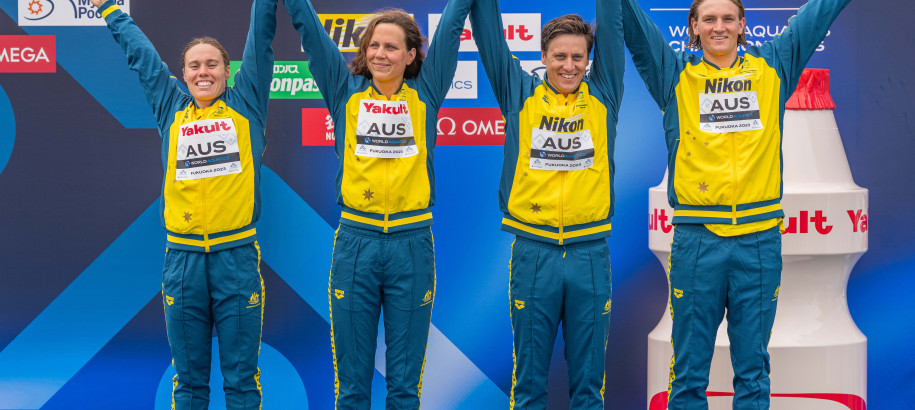 Queensland Trio Set Up Breath-taking Bronze in Fukuoka 4x1500m Open Water Relay
Queensland trio Chelsea Gubecka (Yeronga Park), Nick Sloman (Noosa) and Moesha Johnson (Griffith University) combined with dynamic WA anchor-man  Kyle Lee (North Coast) to win Australia's second World Aquatics Championship medal in Fukuoka today - taking a breath-taking bronze in the 4x1500m open water relay.
Just two-tenths of a second (0.20) separated Lee and Germany's 10km bronze medallist Oliver Kliment at the conclusion of a thrilling relay finish.
Italy, led by Olympic and world champion Gregorio Paltrinieri won gold, Hungary the silver and Australia the bronze when the curtain dropped on the week-long open water program.
It is Gubecka's second medal of her sixth World Championships following her stunning silver and Paris Olympic qualifier in the 10km marathon. 
And there were fitting rewards for Sloman (7th in the 10km), Johnson (10th in the 5km) and Lee (8th in the 5km) in a highly successful open water campaign by the Australians.
After her leg, Gubecka admitted she couldn't stay still, as she watched the race unfold.
"I was so nervous the whole way but I'm just so glad everyone played their part in today's competition. Kyle came through just out-touching Germany, they were definitely a favourite today. We are just so happy that we can be on the podium," said Gubecka. 
While Johnson said: "Today we were the underdogs and to come through like that (was amazing).
"We sat down the other day and talked about how (we might finish) anywhere from third to fifth (and that) would be pretty good. 
"So, to come out third with some of the best nations in open water it's pretty incredible."
And a humble anchor-man Lee, who kept his cool at the finish, was full of praise for his teammates.
"I was very fortunate; my teammates were amazing. I was only one piece of the puzzle," said Lee.
"I dived in first in the water. Chelsea, Moesha and Nick put me in such a great position.
"I just tried to put on the best race that I could. German Oliver Kliment is an amazing open water swimmer, who got a bronze in 10k and I knew he was in great form.

"I just really tried to position myself as best as I could and try to get my hand on the touchpad first. 
"Really i just tried to time it out from the wall. I didn't try to think too much about it. To get the result we did, I was extremely happy. I was hoping to keep our team within the medals.
"To be there (win a medal) was surreal. It's awesome to have a second medal for Australia. 
"Chelsea set us up well with a silver and qualifying for the Paris Olympics, and I think that set the tone for the team. Coming into today everyone was so positive, we believed in each other, and I think it really showed."
Ian Hanson OAM
Queensland's Chelsea Gubecka has kick-started Australia's World Championship campaign with a sterling silver medal in today's 10km open water marathon in Fukuoka (JPN).
The girl from Yeronga Park who is coached by Kate Sparkes, also secured an Australian Olympic quota place for Paris 2024.
The 24-year-old, who first represented Australia 10 years ago at the 2013 World Championships is competing in her sixth  World Aquatics Championships.
Read the Swimming World race report here: 
https://www.swimmingworldmagazine.com/news/world-championships-leonie-beck-secures-10k-world-title-chelsea-gubecka-katie-grimes-earn-medals-olympic-spots/