23 October 2023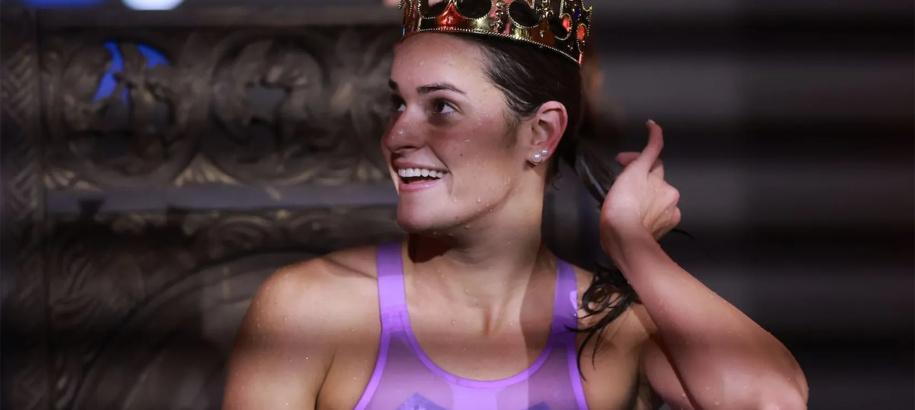 Queensland's World beating backstroker Kaylee McKeown has been crowned the 2023 Women's World Cup champion overnight with fellow Gold Coaters Lani Pallister establishing herself as the distance queen and rising star Max Giuliani making his spectacular gold medal arrival on the international stage.
In a weekend to remember in World Aquatics, 22-year-old McKeown (Griffith University) re-wrote the world record books, lowering the 50m backstroke mark to 26.86 and her own 100m world best to 57.33 (28.15; 2918) before lowering her own 200m backstroke World Cup record for the third time to 2:04.81 –an amazing eighth time under sub 2:05!
A record assault from the dominant Gold Coaster, that saw her remain unbeaten in nine backstroke events across the three meets in Berlin, Athens and Budapest – the first swimmer to win the 50,100 and 200m backstroke triple treble – earning McKeown a whopping $US100,000 World Cup winning bonus on top of her meet prizemoney earnings of $US37,500 – her richest ever swimming payday.
A humble triple World champion and three-time Olympic gold medallist saying she wasn't really expecting her World Cup success.
"It's lovely and it's a great experience to take away from these World Cups.  It gives me extra motivation and some (bonuses) from those last personal bests," said McKeown.
On the 100m world record: 
"It's a matter of trusting the process and applying it. I honestly didn't think about swimming a world record…I was really relaxed coming into the race…I tend to swim better when I go out a bit faster. I am trying to learn to swim a bit sharper, so happy that some of the things we are trying are working. This is a good stepping stone for the future.
And on the 200m: 
"My coach Michael Bohl said to be sure not to get in my own way and to just pick myself up on that third 50.
"It's really nice to bring these results back home to Australia.  We can't always be thinking about the Olympics because it can be overwhelming, so I often wake up thinking about training. 
"My confidence level is probably where it was after this summer's World Championships. I still have a lot to do mentally and physically. If you are not learning, you are not growing so I have to look for that one-percenters that make a difference in my swimming."
McKeown's Gold Coast-based Griffith University teammate, 21-year-old Pallister, was crowned the World Cup distance queen, taking out the 800, 1500 and 800m freestyle treble over the three meets, lowering her 800m personal best for the second time in the Series, winning the 800m in Budapest last night in 8:15.11pb (58.44; 2:00.57; 4:05.25).
Making her the seventh fastest swimmer over 800m in history and the second fastest Australian behind Olympic silver medallist Ariarne Titmus (8:13.59) – finishing sixth in the overall World Cup rankings and followed her silver medal swim over 400m to Erika Fairweather (NZL) in 4:03.43.
Another Gold Coaster, former Tasmanian Giuliani (Miami), continued to fullfil his enormous potential under Richard Scarce and Paul Crosswell – breaking through for his maiden major international win – taking the 200m freestyle final in a personal best of 1:45.42 (28:84; 51:85; 1:18.93).
The 19-year-old staging a neck-and-neck duel with established Lithuanian star Danas Rapsysdown the final 50m to claim the fifth fastest time ever by an Australian with Australia's 400m freestyle world champion and winner here in Budapest, Sam Short, fourth in 1:47.05.
Only Ian Thorpe (1:44.06), Clyde Lewis (1:44.90), Thomas Fraser-Holmes (1:45.08) and Giuliani's senior Miami teammate Alex Graham (1:45.22), swimming faster.
Giuliani revealing that a year ago his best time wasn't faster than 1:50 'so this time, a new PB is really great."
"I lived in Tasmania my whole life, and I thought I was training properly down there, but I knew that I needed to do something different (hence the move to the Gold Coast) if I was going to swim faster," said Giuliani, who made the move to Miami and Rackley Swimming earlier this year.
"I needed to become more committed.  This is my first proper international meet and my first time in Europe.  
"I love to be racing with these boys, living it, I can't complain, best time ever. It's pretty exciting, 
"I could not be happier to win a World Cup event. Only about six weeks of work before this World Cup series and I am now looking forward to getting back home, back into the grind, to get fit, get strong, and then it's on to (Olympic) Trials, and hopefully Paris if all goes well."
Meanwhile in other World Cup highlights, Giuliani's Miami, Gold Coast teammate, Tokyo Olympian and 2022 World Championship silver medallist Jenna Strauch has finished ninth overall in the women's World Cup rankings after her successful return to international swimming from her leg injury.
Saving her best till last, Strauch claimed her third silver medal in her specialist 200m breaststroke, clocking a personal best time of 2:22.83 to kick start her Paris Trials campaign in career best form - a massive confidence booster.
The top Australian male overall performance came from Sunshine Coast's Tokyo Olympian and World Short Course star, Isaac Cooper (St Andrews; Coach Ash Delaney) wrapping up his ninth-place finish in the overall World Cup rankings with his silver medal in the 50m backstroke in 24.82 and bronze in the 50m freestyle in 21.92.
In other events in Budapest:
-       World champion Sam Short (Rackleys) led all the way to win the 400m freestyle in 3:44.51 holding off American Kieran Smith (3:46.80) and Rapsys (3:47.00).
-       The Campbell sisters Bronte (Cruiz, ACT) and Cate (Chandler) created more family history – continuing their duels in the pool - dead-heating for the first time in a major meet, sharing bronze in the 50m freestyle in 24.42 – Bronte finishing fourth in the 100m in 53.42, just out-touching Cate by 0.01 – in 53.43.
-       While Bond boys Jesse Coleman and Ben Armbruster were third and fourth respectively in the 100m butterfly in 51.88 and 52.18 with Cody Simpson (Griffith University) seventh in 52.31 and;
-       Tokyo bronze medallist Brendon Smith (Griffith University) won bronze in the 400IM in 4:16.93 and Alex Perkins (USC Spartans; Coach Mick Palfrey) an encouraging bronze in the 100m butterfly in 58.08.