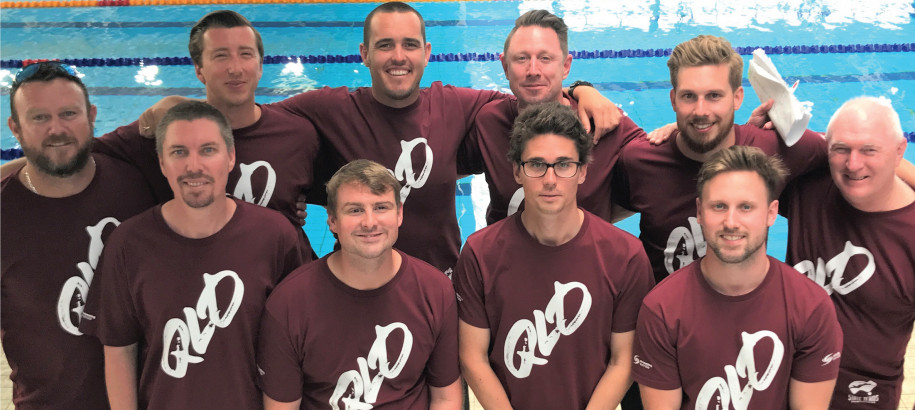 Coaches at all levels play a crucial role in ensuring that swimming is an enjoyable experience for everyone, as well as laying the foundation for the development of better athletes.
Coach education is a key component of Swimming Queensland's development strategy and below you will find some helpful resources to support your coaching career.
Technical Skills
Focusing on fundamental aquatic skills, ONCORE improves body position, body awareness, shoulder stability, core strength, core body alignment, feel and hold in the unstable environment of water.

Through a wide range of drills, ONCORE engages key muscles from the catch of the stroke, through the shoulder and across the torso to the opposite hip. This allows the user the activate and strengthen important muscle cross-connections required for fast and efficient swimming.

Each season, selected members are introduced to these drills through SQ's Aquatic Body Alignment clinics as part of our overall Development Program.

If you would like to grab your own set of ONCORE to practice the drills you learnt, you can purchase it from the SQ Swim Shop. There are also great discounts available to clubs when buying multiple sets, just send us an email!

Starts

Tumble Turns

Touch Turns

In 2018, Swimming Queensland joined with Australian Swim Team Physiotherapist Tom Barton to launch an innovative app – Q Swim. The Q Swim App was created by Tom to help coaches assess, track and address body position out of the pool.  

To go faster, swimmers need to minimise their drag forces whilst maximising power generation. A key feature of the app for swimmers and coaches is the ability to quickly measure and compare screen shots against an 'ideal example'. The Q Swim App allows for a comparison between a swimmer, performing an element from their pre-swim warm-up routine, to a screen shot of Mitch Larkin, Olympic Silver Medallist and 2015 Dual World Champion, performing the same activity. 

Coaches and athletes can use this feature to identify particular restrictions out of the water, correlate these with issues they are having in the water and use this information to select an appropriate intervention that aims to improve this restriction. The success of the intervention can then be reviewed using the same feature on the app. 

With improved position and awareness, an athlete's body is optimised for training and competition, leading to improved performance and less injury.

Users of the Q Swim App will be able to create and download customised pre-swim warm-up routines that target the entire body across 4 different challenge levels.  By introducing the relevant pre-swim routine, an athlete will develop improved body position and control on land and this will readily transfer into the water.

The app will also deliver the best and most up-to-date educational resources, covering topics like coaching, physiotherapy, physiology and skill acquisition.

The Q Swim App was extensively field tested with coaches, physios and athletes testing the beta version.

We at Swimming Queensland, think it is both a valuable and affordable resource for athletes and coaches alike and you can subscribe for the low price of $1.99/month or $19.99/year, with the ability to cancel at any time.

For more information, check out www.qswim.co or visit @qswimapp on Instagram.

 
Athlete Management and Communication