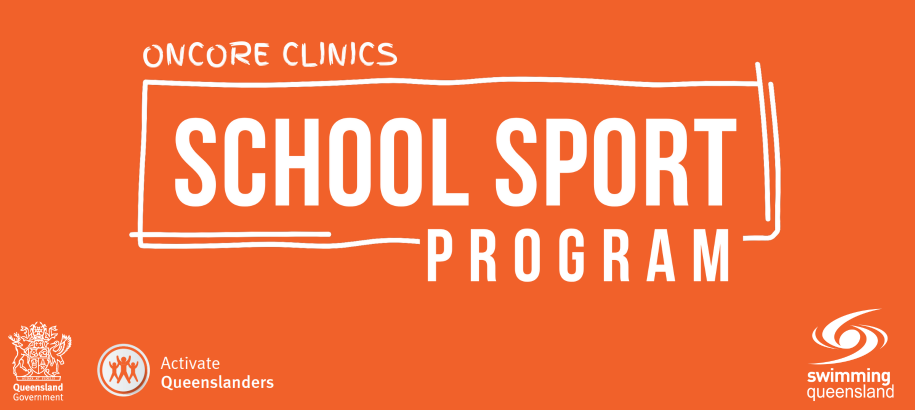 ONCORE is a training aid that targets core strength and stability to improve technique, efficiency, feel and hold of the water. In these clinics and workshops, participants will be taken through drills centred around improving body position, awareness, shoulder stability, core strength, body alignment and connection with the water by former swimming World Champion Jade Edmistone and/or Jess Schipper.
ONCORE Clinics - Open now, see details below to sign up.
Students aged 10-12 years will be taken through a 2 hour clinic (including 1 hour GROW Workshop) focussing on the fundamental skills of our sport. They will learn how their body moves in the water and how to best control this to be connected with the water and therefore stronger, more efficient and faster. Clinics will be delivered in conjunction with GROW across all 12 school sport regions in Queensland throughout the 2022-23 season.
As dates and locations are finalised, they will be listed below, along with the links to sign up.
Please note, each clinic will be capped at 30 students aged 10-12 years.
ONCORE Teacher Workshops
School teachers as well as swimming teachers and coaches will have the opportunity to attend an ONCORE Teacher Workshop, with 4 available in various locations and dates. In this practical workshop, teachers and coaches will learn about ONCORE, the drills to use and how to implement these in their swimming programs to improve body position, balance, core strength, stability, feel and hold of the water.
ONCORE Club Clinics
This 1 hour clinic will be offered to 6 non-affiliated swimming clubs operating from state schools in Brisbane. Swimming Queensland will contact clubs directly to organise these clinics, however, if you know a club that would love to be involved, be sure to let us know!
Sign up now - Location, Dates and Times
GLADSTONE - 27 September 2022 - This clinic has finished

Gladstone Aquatic Centre
60 Tank St, West Gladstone

9.00AM - 11.00AM

 

EMERALD - 28 September 2022 - This clinic has finished

Emerald Aquatic Centre
Opal St, Emerald

8.00AM - 10.00AM

Please note, each clinic will be capped at 30 students aged 10-12 years and will incorporate both GROW and ONCORE.

While this first round of Metropolitan Region clinics are now full, there will be a second clinic in each of the three regions later in the season. If you have registered your interest in the School Sport Program, you will receive an email inviting you to the next round when they are ready. 

 

METROPOLITAN EAST - This clinic has finished.

COORPAROO - Sunday 18 September 2022

Coorparoo State School
Halstead St, Coorparoo

9.00AM - 11.00AM

 

METROPOLITAN NORTH - This clinic has been postponed. New date coming soon!

BRAY PARK - Wednesday 21 September 2022

Genesis College
12-16 Youngs Crossing Rd, Bray Park

1.00PM - 3.00PM

 

METROPOLITAN WEST - New date for rescheduled clinic.

ST LUCIA - Sunday 23 October 2022

Ironside State School
2 Hawken Dr, St Lucia

9.00AM - 11.00AM

 

Please note, each clinic will be capped at 30 students aged 10-12 years and will incorporate both GROW and ONCORE.

RICHMOND - 9 January 2023 - Sign up link coming soon 

Richmond Swimming Pool
Goldring St, Richmond

9.00AM - 11.00AM

 

MOUNT ISA - 11 January 2023 - Sign up link coming soon 

Splashez Aquatic Centre
23 West St, Mount Isa

9.00AM - 11.00AM

Please note, each clinic will be capped at 30 students aged 10-12 years and will incorporate both GROW and ONCORE.

TOWNSVILLE - 7 January 2023 - Sign up link coming soon 

Long Tan Memorial Pool
316 Fulham Rd, Heatley

9.00AM - 11.00AM

 

CHARTERS TOWERS - 8 January 2023 - Sign up link coming soon 

Charters Towers Swimming Pool
7-13 Plummer St, Richmond Hill

9.00AM - 11.00AM

Please note, each clinic will be capped at 30 students aged 10-12 years and will incorporate both GROW and ONCORE.

CAIRNS - 7 October 2022

Woree Sports & Aquatic Centre
1 Pool Cl, Woree

4.00PM - 6.00PM

 

MAREEBA - 8 October 2022

Marbeea Swimming Pool
Abbott St, Mareeba

10.00AM - 12.00PM

Please note, each clinic will be capped at 30 students aged 10-12 years and will incorporate both GROW and ONCORE.

NOOSA - 1 October 2022 - This clinic has finished.

Good Shepherd Lutheran College
115 Eumundi Rd, Noosaville

9.00 - 11.00AM

 

MAROOCHYDORE - 2 October 2022 - This clinic has finished.

Cotton Tree Aquatic Centre
412 Cotton Tree Pde, Maroochydore

11.00AM - 1.00PM

Please note, each clinic will be capped at 30 students aged 10-12 years and will incorporate both GROW and ONCORE.

BUNDABERG - 25 September 2022 - This clinic has finished.

Bundaberg Swimming Academy
25 Fitzgerald St, Norville

11.00AM - 1.00PM

 

HERVEY BAY - 30 September 2022 - This clinic has finished.

Hervey Bay Aquatic Centre
202-204 Boundary Rd, Torquay

9.00AM - 11.00AM

Please note, each clinic will be capped at 30 students aged 10-12 years and will incorporate both GROW and ONCORE.

WIDE BAY

BUNDABERG - Sunday 25 September 2022 - This workshop has finished.

Bundaberg Swimming Academy
25 Fitzgerald St, Norville

1.30PM - 3.00PM

 

SUNSHINE COAST

NOOSA - Friday 30 September 2022 - This workshop has finished.

Good Shepherd Lutheran College
115 Eumundi Rd, Noosaville

3.30PM - 5.00PM

 

PENINSULA

CAIRNS - Saturday 8 October 2022

Trinity Bay State School
2 Hoare St, Manunda

3.00PM - 4.30PM

 

METROPOLITAN EAST

CHANDLER - DATE TBC

Sleeman Sports Complex
Old Cleveland Rd, Chandler

TBC TIME