07 March 2022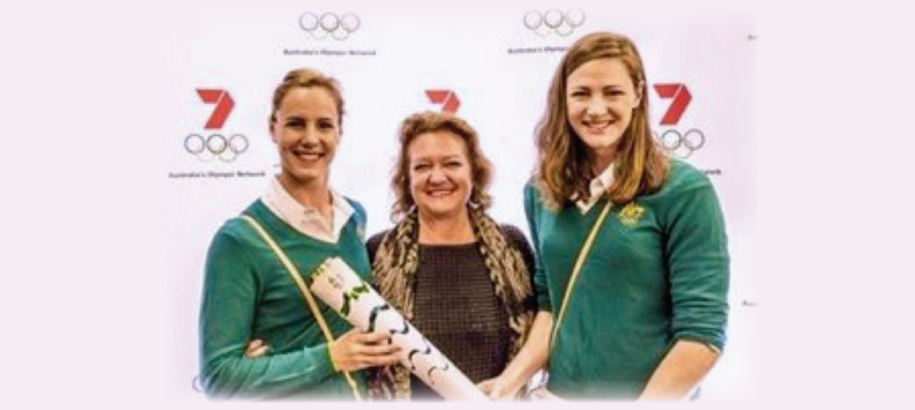 Bring on Brisbane 2032: let Aussie Olympians and Paralympians shine! Gina Rinehart AO and Hancock Prospecting extend critical swimmer support to Paris 2024 and beyond
Hancock Prospecting has announced it is continuing to fund Australia's best swimming talent via the Hancock Prospecting Swimmer Support Scheme ("HPSSS") bringing Australia's most successful private company's investment into high performance swimming just shy of $40m since 2012.
$10m of new funding is dedicated to enable athletes to prepare up to and directly after the Paris Olympic and Paralympic Games in 2024, with a commitment to provide further funding all the way until Brisbane 2032.  Hancock Prospecting has reallocated funds away from traditional sponsorship properties and into direct athlete payments, meaning it will see swimmers receive a major boost in the quantum of funds received annually.
The HPSSS, which was the brainchild of Hancock Prospecting's Executive Chairman, Gina Rinehart AO, has provided critical direct financial support to Australia's best swimmers for over a decade, in addition to Mrs Rinehart and Hancock Prospecting, being one of Swimming Queensland's longest and largest supporters, and further, also supporting West Australian swimming since 1992, initially via the Hancock Family Medical Foundation. This welcome funding has helped competitions all over both states and helps swimmers with daily living costs such as rent, food, transport, healthcare and other essential needs.
Chief Executive Officer of Swimming Queensland, Kevin Hasemann said, "The HPSSS is emblematic of Mrs Rinehart's wholehearted commitment to the sport of swimming and its high-performance athletes and we are delighted to be able to service the swimmers through administering it on behalf of Hancock Prospecting." 
"Swimming Queensland is at its core about supporting and developing swimmers. To be able to join hands with our sport's largest and most significant supporter for many years to provide this service to swimmers both from Queensland and across the country, is a way we can give back to our athletes who have given so much for our sport in their pursuit of excellence."
"With the Brisbane 2032 Olympic and Paralympic Games only ten years away it is a great opportunity for our sport to continue to be amongst the world's best.  Mrs Rinehart's welcome patronage and funding provides a platform for not only our current crop of athletes, but also the next generation to come through, to be the best they can be for themselves and Australia.  We are very fortunate to have the backing of a great Australian in Mrs Rinehart and delighted that she has agreed to being a co-patron with the Governor, of Swimming Queensland."
Over the next three years in the lead up to the 2024 Paris Olympic and Paralympic Games, approximately 100 swimmers, from across Australia will be supported annually through the HPSSS.
Dual Olympic Gold medallist, World Champion in 50 and 100m Freestyle and President of the Australian Swimmers Association Bronte Campbell said, "this funding has been instrumental in swimming's success and will pave the way in the lead up to the first home Games since Sydney 2000."
"The funding that swimmers, including myself and my sister Cate, have received from the Hancock Prospecting Swimmers Support Scheme, over the last ten years has made a huge difference for us.  So many athletes prior to this program were attempting to work full time jobs to support their training regime of 2-3 times a day, 6 days a week.  This funding enables us to put more in where it counts, and that is turning up day after day at training and putting in 200% so that when we get to the starting blocks, we can turn this hard work and resilience into world best performances for Australia."
"On behalf of all the funded swimmers we thank Mrs Rinehart for her unwavering support of us, and we are very delighted that she will continue to be our swimmer's patron.  This strong support enabled us to perform at our best in Tokyo, our best-ever Olympic result as a team."
Under a new management system, swimmers will receive simplified and automated invoicing arrangements to ensure more time can be spent focussing on training rather than paperwork.  In addition, an annual Patron's Gala Awards Dinner will be held, with this year's event occurring in Brisbane. 
Hancock Prospecting is Australia's largest financial contributor to Olympic sport, being long term supporters of Swimming Queensland, Swimming West Australia, Rowing Australia, Volleyball Australia and Artistic Swimming [formerly known as Synchronised Swimming].  Early this year the company also announced a long-term partnership with the Australian Olympic Committee.
Gina Rinehart is the proud patron of the Australian swimmers, Swimming Queensland, Swimming West Australia, Rowing Australia, Volleyball Australia and Artistic Swimming, and is very dedicated to the Olympic and Paralympic athletes. She was also awarded the Australian Olympic Committee's prestigious Order of Merit for her commitment to Olympic sport. Hancock Prospecting and Gina Rinehart are the largest ever private supporters of Australia's Olympic efforts, in Australia's history. 
Swimming Qld is lucky to have one of Australia's most successful women in business, Mrs Gina Rinehart, as our Patron.  Click here to listen to rare interview from Mrs Gina Rinehart given on International Women's Day, where she shares who inspired her.