24 June 2023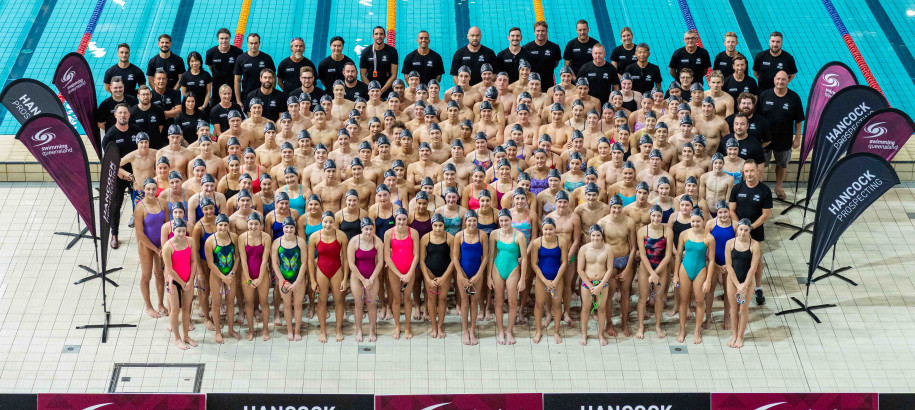 More than 150 of Queensland's best young swimmers made a splash at the Brisbane Aquatic Centre today – daring to dream of 2032 and representing Australia at a home Games with Swimming Queensland launching a long-term swimmer and coach development squad partnership with Hancock Prospecting.
The partnership will foster the development of the next generation of Queensland, Australian and Olympic and Paralympic champions inspired by a proud history of greats who have taken their own golden path to Olympic and Paralympic glory.
The stars of tomorrow were joined by their coaches, families and former and current champions including Zac Stubblety-Cook, Mitch Larkin, Jenna Strauch, Lizzy Dekkers, Ty Hartwell, Katja Dedekind and Will Martin as Swimming Queensland unveiled the advancement of a long and rewarding relationship with Hancock Prospecting that dates back to 2012.
The announcement comes after a record 28 Queenslanders (75 percent) were named on the 38-strong Australian Dolphins Swim Team for next month's World Swimming Championships in Fukuoka (JPN), following the Selection Trials in Melbourne that saw Queensland swimmers win 30 of the 34 events!
Swimming Queensland CEO Kevin Hasemann addressed the swimmers, coaches and their families to make the announcement before a special training session for "today's talented swimmers chasing tomorrow's gold."
Mr. Hasemann said that Queensland swimmers' achievements in Tokyo, where they won nine of the 16 gold medals claimed by the entire Australian Olympic team, and five of Australia's six Paralympic swimming gold medals – the high-water mark in Swimming Queensland's 125-year history had stamped Queensland as the top swimming province in the world.
"A crucial, indeed critical, factor in swimming's Tokyo 2021 triumph and earlier performances at the 2016 Olympics and the 2018 and 2022 Commonwealth Games was the extremely generous financial backing of high-performance swimmers through the Hancock Prospecting Swimmer Support Scheme," Mr Hasemann said.
"Implemented over a decade ago by Mrs. Gina Rinehart, who has been sponsoring swimming in Australia for more than 30 years, the scheme is the lifeblood of performance swimming in Australia because it enables Australia's top swimmers to dedicate themselves fully to achieving their dreams of representing their nation at their best and with high distinction.
"For Australia to take on the world's best and shine again in 2032, Swimming Queensland faces the herculean task of finding and developing a new team of swimmers capable of replicating the outstanding efforts and inspiring medals of Tokyo.
"To do so successfully, Swimming Queensland needs adequate funding support to invest in and expand on its time-proven pathway programs.  Without it, high expectations of Queensland swimmers replicating their amazing Tokyo record would become a pipe dream, and Australia's prospects of a strong medal tally would be torpedoed.
"I'm delighted to announce today that Hancock Prospecting will partner with Swimming Queensland to grow development opportunities for our next generation of champion swimmers and give them the rare opportunities presented by a home Games.
"Swimming Queensland pledges that, with Mrs. Rinehart's assistance, it will do everything it can to help make our swimmers' dreams come true, while equipping them with the tools they will need to successfully navigate their way through their swimming career.
"I'm sure that every talented junior swimmer in Queensland is wanting to dream of glory in Brisbane in 2032, to experience the very rare privilege of engendering national pride and all the positive feelings that follow."
Queensland's Olympic and World Champion and world record holder Zac Stubblety-Cook, knows only too well the benefits of a supported pathway program.  
"Given the Trials we have just had there is no doubt that there will be a lot of Queenslanders on that team for a Home Games in 2032 so it is a truly exciting time for the sport of swimming but more broadly for sport in Queensland," said Stubblety-Cook.
"It is exciting to see at these development camps just how talented that next generation is.
"I look back and I'm very fortunate to be in the kind of position I'm in now and to come out to see these young kids and hopefully instil in them some of things the older athletes (like Brenton Rickard and Christian Sprenger) instilled in me.  
"Also having friends and family here has given it special sense of occasion. It takes an army not just one person to get the best out of you.
.
"Also, I wanted to show my appreciation to our patron Gina Rinehart who without her support of swimming across the country and not just in Queensland we would not be where we are today.  This support for up-and-coming swimmers all the way through to the elite athlete level is really important for the sport's long-term future and for the turnaround in performance in the last ten years."
Tokyo Olympian Jenna Strauch, a World Championship and Commonwealth Games silver medallist, also knows the importance of strong reliable support and a Development Program to push the whole sport forward.
"There are so many things that our swimming world is opening to now and not just on an international or National level but at State level as well. There are tons of opportunities for young swimmers to get onto teams for valuable experience," said Gold Coast-based Strauch from Miami Swimming Club, with her eyes on a second Olympics in Paris.
"I remember growing up when we didn't always have too many (development) options, which is why we are very fortunate to have Hancock Prospecting with the purpose to support the elite athletes and now developing the up-and-coming athletes at a more junior level.
"Investing more time and money in our athlete's development so we can leave an Australian swimming legacy after the 2032 Brisbane Games is what we needed and this program is a massive step forward.
"It's very exciting for these athletes, I can recall my memories of those junior years when I was just starting out with such love for the sport, passion and ambition, that has just got stronger!.
"I think it is something to be really cherished and valued and used to push the whole sport forward"