14 December 2022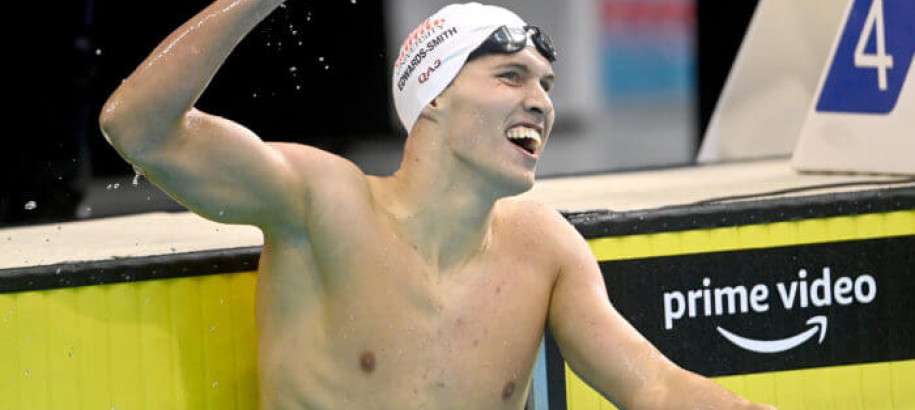 by IAN HANSON - OCEANIA CORRESPONDENT
13 December 2022, 04:11pm
QLD CHAMPIONSHIPS: Triple Olympian Cam McEvoy Keeps On Keeping on as Josh Edwards-Smith Rockets Up The Backstroke Rankings
Australia's Triple Olympian Cameron McEvoy (Sommerville House) continues to turn the clock back with another eye-catching performance to win the 50m freestyle in 22.03 at the Queensland Long Course State Championships in Brisbane last night.
While former WA teenager Josh Edwards-Smith (Griffith University) – now with Michael Bohl on the Gold Coast – has rocketed up the 200m backstroke rankings with a world class time of 1:55.42.
At 28, McEvoy just keeps on keeping on – swimming his fastest times in four years ahead of Commonwealth Games relay gold medallist and 100m winner here Will Yang (SOPAC) 22.49 and St. Andrews Jezze Gorman (22.52). 
McEvoy's time was faster than he swam at last year's OIympic Trials and in Tokyo and was only 0.01 outside the bronze medal time at this year's Commonwealth Games.
McEvoy at his top in 2016, posted his personal best of 21.44 but has continued to chip away, suggesting that next year's World Aquatics Championships in Fukuoka and ultimately a record fourth Olympics in Paris in 2024 are not out of the question.
But he knows that to be competitive again he has to be well under 22 seconds – and a sub 22 may not too far from his reach.
After a "working holiday" stint in Sydney where he swam socially at the Andrew Boy Charlton Pool at Manly earlier this year, McEvoy has returned to Queensland where he has linked up with astute coach Tim Lane at Sommerville House in Brisbane.
Earlier in the week, McEvoy and Yang staged a thrilling 100m freestyle battle, Yang out-touching McEvoy 49.25 to 49.26.
Australia's male sprinting stocks are on the move with a stirring silver medal at last night's opening night of the World Short Course Championships to the men's team of Matt Temple, Flynn Southam, Thomas Neill and Kyle Champion (with Shaun Champion swimming the heats).
Edwards-Smith, at 19, produced a 200m backstroke time that would have won him this year's Commonwealth Games final (where he was sixth in 1:57.50) and just outside the medals at the Budapest World Championships.
His 1:55.42 (27.24; 56.06; 1:25.40) was a 1.29sec personal best and shoots him up the Australian rankings from eighth to second – only bettered by former world champion and Olympic bronze medallist Mitch Larkin.
Edwards-Smith's 50s breakdown were: 27.24; 28.82; 29.34 and coming home in 30.02 – and with the World Aquatics Championships in Fukuoka next year the 19-year-old could well be one to watch as he too targets Paris.
200 METRES BACKSTROKE: (WORLD RECORD 1:51.92 AARON PEIRSOL)
AUSTRALIAN TOP TEN
1:53.17 Mitch Larkin Dubai 06.11.15
1:55.42 Josh Edwards-Smith Brisbane 12.012.22
1:55.82 Ashley Delaney Sydney 19.03.09
1:56.19 Josh Beaver Glasgow 24.07.14
1:56.35 Matson Lawson Brisbane 05.04.14
1:56.39 Hayden Stoeckel Beijing 14.08.08
1:56.40 Tristan Hollard Gold Coast 17.04.21
1:56.41 Bradley Woodward Birmingham 28.07.22
1:57.45 Ty Hartwell Adelaide 12.06.21
Meanwhile in other events last night:
Commonwealth and World Championship relay gold medallist Shayna Jack produced another impressive win, clocking 24.48 to defend her 50m freestyle title in fine style – following up her 100m freestyle win on night one in 54.31.
Just hours later Jack watched her Australian team mates Mollie O'Callaghan, Meg Harris, Madi Wilson and Emma McKeon smash the world short course record for 4x100m freestyle in Melbourne – McKeon producing the fastest freestyle split in history with her slashing 49.96 anchor leg.
And Australia's future female sprinting stocks look to be in good hands with 16-year-olds Milla Jansen (Bond) and Hannah Casey (Marist College Ashgrove) clocking 25.50 and 25.64 with 15-year-old St Peters Western pair Ainslie Trotter and Jaclyn Barclay clocking 26.231 and 26.29 respectively.
Dual Olympic champion Ariarne Titmus (St Peters Western SPW,) added the 800m freestyle to her State Championship wins in the 200 and 400m freestyle, in a comfortable 8:29.94 ahead of New Zealand's Eve Thomas (8:38.80), her club mate Kiah Melverton (8.45.68) and Yeronga Park's open water Olympian Chelsea Gubecka (8:47.23).
SPW's Commonwealth Games trio Jenn Forrester (2:15.41), Abbey Harkin (2:16.06) and Melverton (2:17.70) were the first three Queenslanders home in the women's 200IM.
Sommerville House's emerging freestyler Anders McAlpine (1:49.37) and Ed Sommerville (Brisbane Grammar) produced two impressive times of 1:49.37 and 1:49,.69 in the Men's 17 years 200m freestyle.
Hannah Fredericks (St Peters Western/SPW) added the 200m backstroke to her 100m win in 2:15.00 capping off a successful month's racing with the Queensland team on the recent tour of Japan.
And Dual Olympian, former Western Australian Brianna Throssell, who has settled in well under Olympic gold medal coach Dean Boxall at SPW was a comfortable winner of her specialist 200m butterfly in 2;10.40.