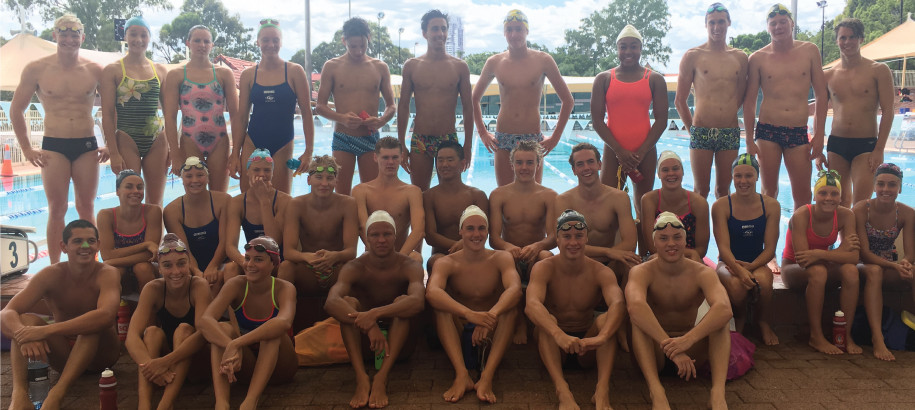 Swimming Queensland (SQ) is committed to the continual development of athletes and coaches, with a range of activities forming our Development Program.
Formal recognition and reward based on performance in the water begins with the Australian Junior Excellence Program and continues through to Swimming Queensland McDonald's Target Squad. Swimming Queensland and their Regional Swimming Associations, work together to ensure a range of development opportunities are made available throughout the year, offering quality coaching and education for athletes, coaches and parents.
 
The Swimming Australia Bio Island Junior Excellence (JX) Program recognises, rewards and encourages junior swimmers who, through their development of aquatic skills and fitness, achieve a high standard of swimming excellence.

For the 2018/19 season, swimmers aged from 9 to 16 years, who accomplish times set by Swimming Australia, qualify at Gold, Silver, Bronze or Green standard, depending on their best performance/s during the season.

Please note, from 2019/20 onwards, the program has narrowed its focus and will now make the eligible age range 9-13 years. However please note swimmers aged 14-16 will still receive their JX packs for the 2018/19 season.

The links below provide information on the program, including qualifying times to achieve a JX award, and archived JX Results. 

JX Qualifying Criteria

The criteria for achieving a JX award is called a standard and are published each year on the Swimming Australia website.

JX Awards

Each year the JX qualification criteria will be set by Swimming Australia for each age group and published on the Swimming Australia website. Swimmers who accomplish times from the JX criteria will qualify as a JX Gold, Silver, Bronze or Green recipient.

Results from approved meets are included in the national results database - Results Central. At the end of the qualification period, Swimming Australia will calculate the results and publish a list of JX recipients on their website. Each swimmer's MyLANE avatar will be updated to reflect their current JX status.

Swimmers who achieve a Gold Award for 5 years or more or are aged 15 /16 years old and race at the Australian Age Championships will be given special recognition on the Swimming Australia website as JX Legends.

View current and previous results on the Swimming Australia website.

What do I receive as a JX recipient?

Once the results have been published Swimming Queensland recognises and rewards all athletes achieving JX qualification criteria with a certificate and swimming cap or shirt. JX athletes are invited to attend Aquatic Body Alignment Clinics, which are held all over Queensland throughout the year.

There are six Swimming Queensland McDonald's Development Squads which form the basis for our Development pathway. Selection criteria for these squads are based on International or National performance standards for able body swimmers, open water swimmers and swimmers with disability.

Each year, by the end of May, eligible athletes and their coach are notified by email of their relevant squad selection for the upcoming season. Throughout the season, there will be different teams, camps, workshops or clinics that provide the appropriate level of development and educational support required to progress along the pathway. Invitations will be sent to eligible athletes and coaches to attend such development activities.

Our squad selection criteria and upcoming activities for each squad are published in our Development Program booklet.

Each year teams are selected to represent Queensland nationally or internationally, each with their own unique focus and desired outcomes. For example, targeted age groups, disciplines, or to develop specific skills and experiences for both athletes and coaches. Therefore selection on these teams is dependent on criteria set specifically to the needs, focus and outcomes of the activity.

Previous Queensland Teams have travelled inter-state and overseas to attend World Cups, State Championships, training camps and other exciting activities.

If you've been selected on an upcoming Queensland Team, you and your coach will be notified.

Talent ID Camps

Talent ID Camp brings athletes and coaches together for their individual development. At these camps, a series of tests are performed in and out of the water to educate both the athlete and their coach on areas of strengths and improvement. The results can then be used to implement individually targeted training focuses for continual improvement.

Talent ID Camps are held twice each year and the selection criteria to attend is published in our Development Program booklet. In previous years, selection to attend a Talent ID Camp has been based on performances at a chosen event/s where an athletes' physical, technical and skill characteristics, as well as their training and physical maturity were assessed in order to be selected.

If selected to attend, you and your coach will be notified.

Altitude Camp

Swimming Queensland's Altitude Camp is designed as an educational experience for athletes and coaches who are transitioning from youth to open level competition. The Camp involves training and testing in an altitude environment to further their development and progression in the sport.

Selection will be at the discretion of the Swimming Queensland Coach Development Director and will be based on the following factors:

athlete must be aged between 17 to 23 years (as at 22 September 2018); and
achieve a minimum of 800 FINA points from performances recorded in Olympic events at 2018 Age Nationals and 2018 Australian Open Championships (Commonwealth Games Trials and Pan Pacific Championships Trials); and
athlete was not a member of the Queensland Team selected to attend the 2018 State Teams Championship.

Stroke Camp

There is so much to be gained from doing training sessions with your peers. At our  Swimming Queensland Stroke Camps, selected athletes will be invited to come together to train and learn to further their individual development, in a particular swimming stroke. Group sessions like this raise the level of performance and create a team culture in a predominantly individual sport.

Stroke camps are open to athletes aged between 16 to 24 years of age and are selected based on performances at designated events each year.

If selected, you and your coach will be notified.

Find out this year's qualifying criteria in our Development Program booklet.

Intra-Regional Clinics are an integral part of our Development Program, providing a targeted developmental opportunity, both in and out of the water, for athletes, coaches and parents/guardians.

During the year Swimming Queensland delivers a number of Inter-Regional Clinics across Queensland.

Athletes invited to attend these clinics will include Swimming Queensland McDonald's Squad members (Gold up to 18 years, Silver up to 18 years, Flippers, Bronze and JDS). Also invited are all ascta accredited coaches and parents of any athletes attending.

If you are a member of the above-mentioned squads, you and your coach will be notified.

Upcoming Clinics

Check back for more information about upcoming Intra-Regional Clinics

In partnership with The ONCORE Academy and Swimming Queensland's Regional Associations, Swimming Queensland delivers a series of development opportunities across Queensland each year.

To date, more than 500 athletes have participated in Aquatic Body Alignment Clinics throughout Queensland. Here they were introduced to the Fundamental Aquatic Skills required for fast and efficient swimming. The clinics provide the opportunity to improve body position, core stability and strength, feel and hold of the water with former World Champion and World Record holder, Jade Edmistone.

This year, these clinics will be offered again to eligible Queensland members, so keep your eyes out for a possible invitation in your inbox from Swimming Queensland.

Want to know more about The ONCORE Academy? Visit their website here.

You can also purchase your own set of ONCORE from the Swimming Queensland Swim Shop.

Here at the Swimming Queensland, we believe that to get the best out of yourself, you have to become the best version of yourself. This is a continual, active process of making choices that lead to positive change and personal growth - both physically and mentally!

Trifecta Workshops have been designed to target the development of specific skills both in the water and on land, to ensure both the body and the mind are working together to thrive. Each one will focus on a different element and will be targeted at different age groups. Make sure you keep your eyes out for one that grabs your attention!

Within each Trifecta Workshop, you will hear from World and Olympic level athletes, sharing their experiences and what they found helped them to reach the top of their sport. You will then jump in the water to work on swim-specific skills - and they will be in there with you so you can watch, learn and do! Lastly, there will be an opportunity for you to have a photo, get things signed or ask them questions.

Without the support of family, athletes do not reach their goals, so parents and guardians are not only welcomed to come along, but are encouraged to stay and learn too.

With limited spaces available at each workshop, be sure to get in quick to secure your spot - check out the events page for upcoming dates! Or send us an email if you have any questions about this program!

The Swimming Queensland Swimmer with Disability (SWD) Camp involves selected athletes and coaches coming together to learn more about their individual development. A series of tests are performed in and out of the water to educate both the athlete and their coach on areas of strengths and improvement. These can then be used to implement specific training focuses for continual improvement. The camp is run by Swimming Queensland's Para Development Officer and is highly educational and forms the basis on which progression can be individually targeted for swimmers with disability.

If you are invited to attend, you and your coach will be notified directly.

Beyond the Black Line (BTBL) is a program, designed to be a conversation starter that encourages the entire swimming community to get behind our young swimmers.

BTBL focuses on sharing life experiences with young swimmers facing the physical and emotional highs and lows of growing up. At the heart of this are online videos and face-to-face workshops featuring past and present Australian Dolphins.

The program encourages swimmers, coaches, parents and clubs to openly talk things through in order to create the right sport and life balance, so we can all continue to be the best we can be – both in and out of the pool.

Face-to-face Beyond the Black Line workshops are open to young swimmers of all levels/abilities and are held separately for boys and girls - keeping the atmosphere relaxed and the conversation flowing. Clubs can request to have a Beyond the Black line workshop at their club. Participants can revisit specific content at any time through the online resources, which is conveniently available on-demand.

If you feel you need more advice at any time the Beyond the Workshop page is a good starting point.

If your Club would like a workshop at your Club, register online.

Swimming Queensland McDonald's Gold, Silver, Flippers and Bronze Squad athletes in FNQ, NQ, CQ and Northern WB (regional) & DD are offered financial support to attend the Queensland Short Course Championships each year. This funding is paid to eligible athletes after the event.

You will be contacted directly by Swimming Queensland if you are eligible for this funding.

Interstate Open Water Funding Support

Swimming Queensland McDonald's Gold, Silver and Flippers Open Water Squad members are offered funding to attend an interstate or international open water event. Please note, this does not include National Open Water Championships, and will be paid after the event.
You will be contacted directly by Swimming Queensland if you are eligible for this funding.

Swimming Queensland Club and Coach Development Officers work closely with the Regional Associations to see that appropriate development opportunities are offered in addition to Swimming Queensland's activities, at a local level. These are varied across each Region, and target different ages and levels of ability throughout the season.

Contact your Regional Association to see what is available in your area.

In addition to the initiatives mentioned above, Swimming Queensland invests heavily in the continual growth and development of our Queensland coaches. Queensland coaches holding an ascta accreditation are invited to attend educational workshops which are conducted face-to-face at the Queensland Academy of Sport.

Invitations are sent from Swimming Queensland to target attendance based on the topic and level of coach appropriate. These workshops are filmed with a live feed for regional coaches whenever possible.