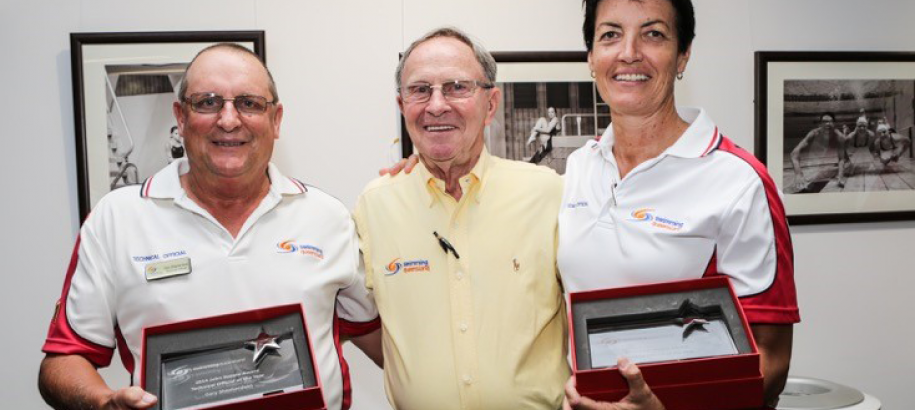 Technical officials are extraordinarily valued in the swimming community as swim meets simply can't run without their time and expertise. Swimming Queensland takes pride in the world-class standard of our technical officials, and therefore have developed a variety of recognition opportunities as explained below.
John Keppie Award – for excellence as a Queensland Technical Official 
The John Keppie award for excellence as a Queensland technical official is presented annually at the McDonald's Queensland Championships. It is named in honour of John Keppie OAM, one of Queensland's finest Technical Officials. 
This award recognises participation in, achievement at, and contribution to officiating. Find out about previous recipients of the John Keppie Award below. 
Michael has had a lengthy involvement in the sport of swimming, firstly as a competitor, then as a parent, then as an official.

 

He was, for many years, an administrator at club and regional state levels.

 

He holds the following accreditations:

Level 3 (national) Starter (2013).

Level 2 (state) Referee (2015).

Assessor and mentor (2017).

 

Michael has officiated at national championships for many years. Furthermore, he is still a regular face on pool deck and state championships, and is always willing to undertake any role.

 

Michael has been an active member of his regional Technical Committee since 2013. And, in recognition of outstanding commitment to officiating, was named as the Regional Technical Official of the Year in 2014.

 

Michael has a thorough knowledge of the rules of swimming. Furthermore, he has an extensive understanding of the policies and procedures associated with swimming.

 

Michael has attended meetings of the State Technical Committee for more than seven years and has had significant input into the identification and development of new officials through mentoring and accrediting, as well as through recommending appointments to higher level meets.

 

He willingly mentors newer Starters, both at regional and state levels and provides feedback, encouragement, and pertinent words of wisdom to more experienced Starters at all levels of competition.

 

Michael was instrumental in establishing an additional per diem for those officials appointed to national meets. He argued at the time, and is still of the opinion, that SQ derives many benefits from its officials attending SAL meets.

 

Michael demonstrates an unwavering dedication to the sport of swimming and has shown tireless commitment to officiating for many years.

 

He is a strong and passionate advocate for technical officials and has a strong determination to ensure that Queensland officials are the best in Australia.

 

Congratulations, Michael Cox, the 2019 winner of the John Keppie Award for Excellence as a Queensland Technical Official.

Julie McGinley (center) being presented the 2018 John Keppie Award by John Keppie (R) supported by Karen Macleod (L). 

Julie McGinley OAM has a lengthy involvement in swimming, commencing in 1981. Initially with Pine Rivers Swimming Club, Julie has been associated with Redcliffe Leagues Swimming Club since 1986 and has, over the years, served variously as President, Secretary, Treasurer, and Team Manager.

As an accredited Referee, she began officiating at SQ and Brisbane meets in 1991 going on to be a long-serving member of both the SQ Technical Committee and Competition Committee, continuing to very capably fill the role of Meet Director at all SQ championships.

In addition, Julie is currently an Assessor for Swimming Australia, specialising in open water competitions.

Her major achievements are many, including:

Being appointed as a FINA Open Water Referee in 2005.
Officiating at the 2008 Olympic Games – the only Australian open water swimming official selected for the Beijing games.

In recognition of her dedication, passion and commitment, this person:

Is a life Member of Redcliffe Leagues Swimming Club.
Was awarded Life Membership of Swimming Queensland in 2007.
Gained Life Membership of the Brisbane Swimming Association in 2013.
Was awarded a coveted OAM for outstanding services to the sport of swimming in 2010.

Throughout the years Julie has demonstrated unwavering dedication to the sport of swimming.

 

Suellen Hardie commenced her association with swimming when she joined the Kenmore State School Swimming Club in 1990.  

Since then, she has served with distinction as: 

a club committee member 

a member of the Brisbane Swimming Association Management Committee 

and on the Board of Swimming Queensland.  

Suellen assumed the role of Chief Recorder for Swimming Queensland in 2002, a position she still holds to the current day. 

Suellen currently holds accreditation as a Level 2 Referee, and is a member of the Waterworx Swimming Club. 

Suellen is appointed as the Control Room Supervisor for all Swimming Queensland meets and championships. She has an extensive knowledge of current IT platforms used and has demonstrated a wonderful ability to quickly and efficiently trouble-shoot problems as they arise. Her knowledge of the Rules of Swimming and of the policies and by-laws of Swimming Queensland is second to none, particularly as they pertain to seeding, swim-offs, and determining finalists. 

Suellen has also successfully performed the role of Control Room Supervisor at countless national championships and many international events including The BHP Super-Series in Perth and the Pan Pacific Championships on the Gold Coast in 2014. Further, Suellen has been appointed to the position of Control Room Supervisor at the upcoming 2018 Commonwealth Games. 

Suellen is the author of the Meet Manager Operator module that forms part of Swimming Australia's accreditation process for technical officials. She also had extensive input into several other modules, including Clerk of Course and Recorder. 

Suellen was awarded Life Membership of Swimming Queensland in 2011. 

She is currently the President of the Brisbane Swimming Association. 

Throughout the years, Suellen has demonstrated unwavering dedication to the sport of swimming. She is an active, highly effective, and thoroughly reliable technical official. As such, it is highly appropriate that she receive the 2017 John Keppie Award for Excellence as a Queensland Technical Official. 

John Keppie (R) presenting Karen Macleod (L) with the 2016 John Keppie Award. 

Karen has had extensive involvement with officiating - spanning some 28 years. She is a life member of her club (Miami), her region (Gold Coast), and her state.

Karen was presented the prestigious Roger Smith Award for Australian Technical Official Of The Year (2005), and was the inaugural recipient of the Gold Coast Technical Official Of The Year (2013). 

Karen has refereed at State and National Championships for many years. She person is a former FINA referee, and officiated at several international meets, including:

The World Short Course Championships (Dubai)
The Commonwealth Games (Melbourne)
And the Goodwill Games (Brisbane). 

Karen is currently a member of the regional, state and national technical committees and, as such, has had significant input into the identification and development of new officials through mentoring, accrediting, and appointing others to higher level meets.

Karen is a former Chief Referee of Swimming Queensland and is currently the technical manager for both Swimming Queensland and Swimming Australia.

Karen willingly mentors newer officials. She provides timely and pertinent words of wisdom to more experienced officials. She is highly involved in the development of up-and-coming officials across the nation, through her leadership of workshops and officiating activities at the State Teams Short Course (Canberra). 

As a key member of the SAL Technical Swimming Committee, Karen has successfully led the re-writing of SAL learner guides. Furthermore, she has led the introduction of the nationwide assessment regime and has developed a set of pool deck protocols which have been adopted by all technical officials across Australia.

At all times, Karen is professional, thorough, respectful, accessible, and knowledgeable. She is literally a walking encyclopedia of swimming rules, with a deep all-round knowledge. Karen is extremely well respected by the wider swimming community and has shown tireless dedication to swimming officiating for many years. 

Dr Simon Hooton, 2015 John Keppie Award recipient, alongside his family and John Keppie (Back Right).

Gary Shepherdson (R) and Erin Collis (L) alongside John Keppie after jointly receiving the 2014 John Keppie Award.  

Peter Crane (L), 2013 John Keppie Award recipient, alongside John Keppie. 

2012 – David Gregory 

2011 – Alan (AJ) Johnston 

2010 – Ted Randle