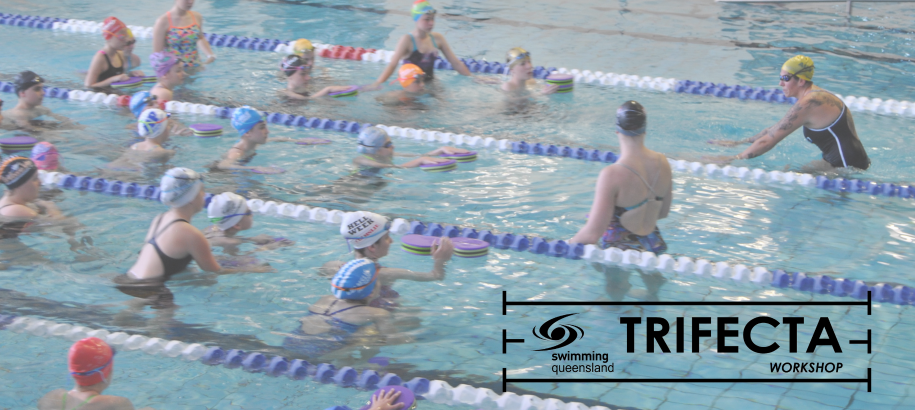 Here at the Swimming Queensland, we believe that to get the best out of yourself, you have to become the best version of yourself. This is a continual, active process of making choices that lead to positive change and personal growth - both physically and mentally!
Trifecta Workshops have been designed to target the development of specific skills both in the water and on land, to ensure both the body and the mind are working together to thrive. Each one will focus on a different element and will be targeted at different age groups. Make sure you keep your eyes out for one that grabs your attention!
Within each Trifecta Workshop, you will hear from World and Olympic level athletes, sharing their experiences and what they found helped them to reach the top of their sport. You will then jump in the water to work on swim-specific skills - and they will be in there with you so you can watch, learn and do! Lastly, there will be an opportunity for you to have a photo, get things signed or ask them questions.
Without the support of family, athletes do not reach their goals, so parents and guardians are not only welcomed to come along, but are encouraged to stay and learn too.
With limited spaces available at each workshop, be sure to get in quick to secure your spot - check out the information below to find out what's coming up! Or send us an email if you have any questions about this program!
Upcoming Workshops
*SOLD OUT*

The first Trifecta Workshop for the season will be held at the Sleeman Sports Complex on Sunday, 30 June 2019. It will run from 9-1130AM with check-in commencing at 845AM.

Those who attend will get the chance to learn from an exceptional presenter panel with the theme of Freestyle Master Class and Key-Decision Making Factors. Special guests will be sharing their personal experiences in and out of the water including:

Jess Schipper - World & Olympic Champion | World Record Holder

Jodie Henry - Triple Olympic Gold Medallist | World Record Holder

Jess Ashwood - Olympian | World Championship Medallist

Jade Edmistone - World Champion | World Record Holder

Don't miss your chance for this unique development opportunity that benefits the whole family in providing tips and strategies for athletes and parents.

Athletes aged 9 years and over are welcome to register, with tickets available from 11AM on Sunday, 16 June.

*Please note this event has sold out - next workshop is scheduled for 21 July 2019.

 

This Trifecta Workshop will be held at the Sleeman Sports Complex on Sunday, 21 July 2019. It will run from 9-1130AM with check-in commencing at 845AM.

Special guests to be announced soon!

Don't miss your chance for this unique development opportunity that benefits the whole family in providing tips and strategies for athletes and parents.

Athletes aged 9 years and over are welcome to register, with tickets available from 11AM on Sunday, 7 July via this link*.

*link will become active on Sunday 7 July from 11AM