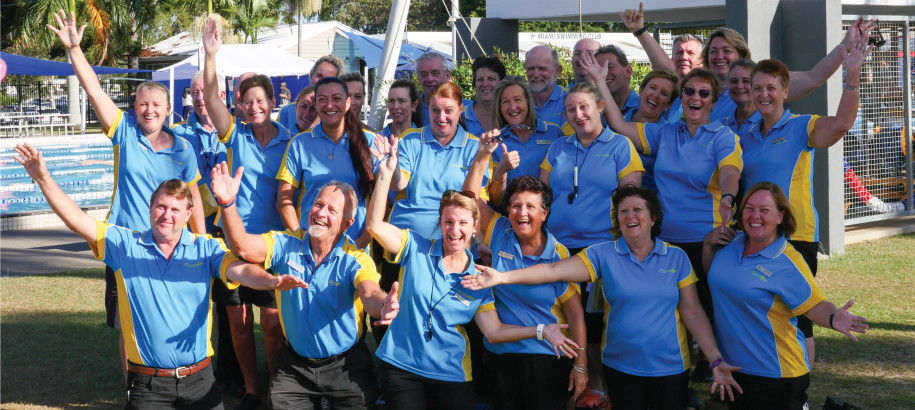 Technical Officials are highly valued members in the swimming community as swim meets all over Queensland can only run thanks to their efforts.
New technical officials are always welcome!
Becoming a technical official is a rewarding experience. Not only can getting involved in your local Club be an excellent way to contribute to your community, it can also provide an opportunity to spend time with your children, stay physically active, develop new skills and create lifelong friendships.
There are heaps of different technical official roles available for people to get involved in a way that suits them. These include Technical officials out on pool deck, as well as in the control room. You can read all about the different positions on our What is A Technical Official page.

Pool deck technical officials:

Referee
Starter
Timekeeper & Chief Timekeeper
Clerk of Course (Marshal)
Check Starter
Judge of Stroke
Inspector of Turns
Finish Judge

Control room technical officials:

Announcer
Control Room Supervisor
AOE or SAT Operator
Meet Manager Operator
Chief Recorder
Technical Manager

There are several learning opportunities that include both theory and practical components, which make up the technical official pathway. This pathway begins with understanding the general principles of being a technical official, applying these practically by officiating at a club and regional level and then as your skills and confidence progress, going on to gain the accreditations and experience to officiate at State, National and International levels.

If you're ready to become a Technical Official, you'll need to complete the following:

Complete the General Principles learning module.
Go on to complete the specific training module for your chosen role/s.
Complete the practical assessment requirements for your chosen role/s.
Once you've received your accreditation, talk to your Club or Regional Committee about opportunities to begin officiating

You may choose to continue your study and development as a Technical Official by completing further learning modules for specific roles, develop your skills further by attending Technical Official Forums or through mentorship and other recognition opportunities that are available.

You can find out more information about the above and access the learning material to become a Technical Official on our Technical Official Training page.

After completing the theory component of your chosen Technical Official role (either online or offline) you will then need to complete a practical assessment.

Swimming Queensland have a number of assessors, across all 7 regions, who can help you to complete the practical assessment required to gain your accreditation.

Please refer to the list below to find an assessor for the module you are completing in your Region.