11 November 2021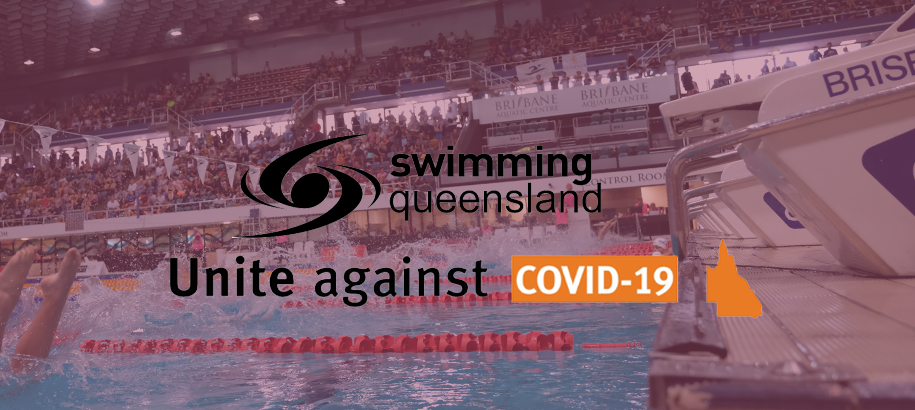 From Friday 11 November, the 11 local government areas in South East Queensland are no longer considered impacted areas. This means that all of Queensland are adhering to the same restrictions outlined here.
Swimming Queensland is awaiting further details to determine how the pending changes in vaccination status may impact on upcoming events and activities, including the December State Championships. Once these are known, we will communicate them via our social media and website. As we have done throughout COVID-19, Swimming Queensland will continue to follow the Qld Health directions.

Please ensure you understand the restrictions to which you are required to comply with specific to your situation and venue, using the COVID Safe Checklist as per the Queensland Government's direction. If you have any questions, please speak with your venue owner/operator or email us.
Current Restrictions, Documents & Resources
All of Qld

Masks must be worn when at airports, and on a domestic or international flight departing or arriving in Queensland.

Everyone is encouraged to carry and wear a mask when physically distancing is not possible.

As per the Restrictions on Businesses, Activities and Undertakings Direction (No. 28), the below are key points in relation to Swimming Clubs operating out of outdoor venues/pools:

Continue as a non-restricted business, activity or undertaking.

Food is now allowed to be via self-service (e.g. buffet style).

A non-restricted business, activity or undertaking may otherwise operate as normal, with physical distancing and public health controls observed.

For clarity, 'physical distancing' includes remaining at least 1.5m away from other persons to the extent possible.

Public health controls include environmental cleaning, hygiene measures, regular washing of hands, availability of hand sanitiser and avoiding handshaking.

Outdoor events are not required to have a COVID Safe Checklist.
Occupant density and the requirement to collect contact information does not apply for outdoor events.
Occupant density requirements apply to any indoor spaces being used, including change rooms and the like with 1 person per 2 square metres.

For Swimming Clubs operating out of indoor venues/pools, the below key points apply:

There is no longer a requirement for restricted businesses to operate under a COVID Safe Industry Plan (i.e. Swimming Pool & Aquatic Centre Industry Plan).
All indoor activities may continue to operate in accordance with the new and simplified COVID Safe Checklist, with any indoor events complying with the new COVID Safe Event Checklist.
The Checklist outlines the control measures that need to be implemented and a signed copy must be displayed at the business premises.
Occupant density of 1 person per 2 square metres for all indoor spaces. This can be exceeded if all attendees are in ticketed and allocated seating. 
Ticketed and allocated seating means fixed seating where an attendee has a record of their assigned seat by way of a ticket and remains in this assigned seat to the extent possible while at the venue or event.
Collection of contact information must occur at the time of entry by:

Use of the Check In Qld app; or
Registering each attendee through the Business Profile mode of the Check In Qld app.

Contact information as mentioned above is not required if

The attendee is younger than 16 years and is not accompanied by a parent or adult who can provide information on their behalf; or
The person is entering in an emergency or to provide emergency services; or
It is not reasonable to collect the information due to a risk to a person's safety.

Use of the Check In Qld app is mandatory from 1am Friday 9 July.
The revoked COVID Safe Industry Plans are available for reference, should you wish to implement some, or all, of the measures in the plans. However, it should be noted that compliance with these plans is no longer mandatory.